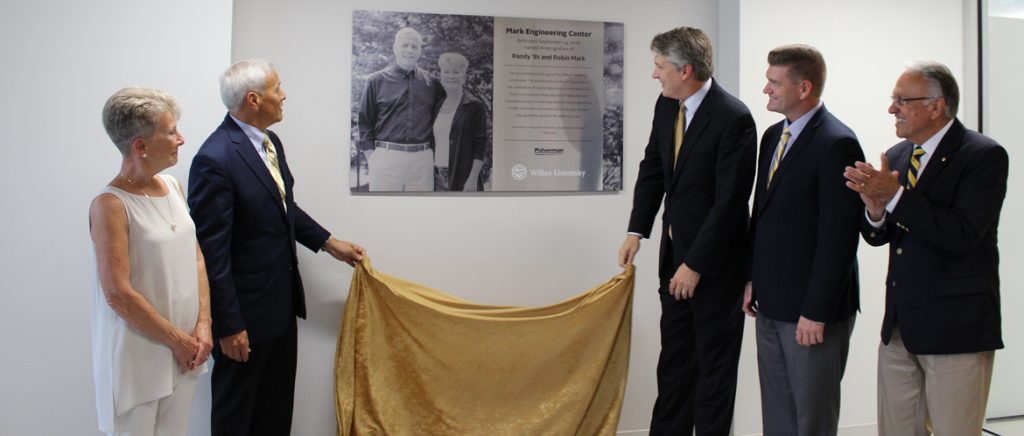 The state-of-the-art engineering facility in Stark Learning Center
is named in honor of local business leaders Randy and Robin Mark
Wilkes University's newest facility, the Mark Engineering Center, officially opened with a dedication ceremony on Sept. 14. The dedication is the culmination of a 16-month,    $8 million renovation to the engineering facilities in Stark Learning Center, creating flexible lab and learning space in disciplines that include nanotechnology, additive manufacturing and bioengineering.
The center is named in honor of Randy and Robin Mark, who made a leadership gift to support the project. Randy Mark earned a bachelor's degree in business administration from Wilkes in 1981. He is the owner and president of Pulverman, a global manufacturer of precision metal components located in Dallas, Pa. He has served on the university's board of trustees since 2013.
"We are humbled to be part of the Wilkes University community. The growth and success of Pulverman is the culmination of a great education, a community that fosters entrepreneurship and many dedicated and innovative people," said Randy Mark. "It is our hope that the Mark Engineering Center will inspire innovation and encourage success among Wilkes students for years to come."
The center was also funded by a $3 million Redevelopment Assistance Capital Program grant from the Commonwealth of Pennsylvania.
"Careers in engineering and science fields are in high demand and only continue to grow. The Mark Engineering Center is designed so our students earn real-world experience before they cross the commencement stage. I want to thank the Marks for this significant leadership gift, which reflects their dedication to Wilkes University, our students and to the advancement of scientific discovery," said University President Patrick F. Leahy. "This also would not be possible without state funding, and we are deeply grateful to Governor Tom Wolf, Sen. John Yudichak and Rep. Eddie Day Pashinski for their help in securing the Redevelopment Assistance Capital Program funds that made this project a reality."
Approximately 23,000 square feet of space in Stark Learning Center has been renovated to ensure that engineering students are prepared to meet the latest industry challenges and needs. It was designed with flexibility and collaboration in mind, while emphasizing real-world industry application. Laboratories include moveable benches and partitions so the spaces can be used for different classes in different majors, encouraging cross-discipline collaboration. Additional project highlights include:
Additive manufacturing and high-performance computing labs
Refreshed building facade facing the Fenner Quadrangle and courtyard areas
Microfabrication lab outfitted with equipment donated from ON Semiconductor
Two large flex labs, interdisciplinary-collaboration space and student lounges
Flexible wet lab space for bioengineering experimentation, faculty research and graduate student activities
Dedicated space for 3-D printing and high-end computers that are integral in research and new product design activities
This is the first phase of planned improvements to Stark Learning Center. The next phase includes enhancements that will impact the Nesbitt School of Pharmacy and the facade facing River Street.
Wilkes offers six undergraduate majors and four master's degrees in a variety of engineering fields that include applied and engineering sciences, bioengineering, electrical engineering, engineering management, environmental engineering and mechanical engineering. The curriculum combines small classes with research and hands-on learning, emphasizing real-world experience. The university's undergraduate programs in electrical, environmental and mechanical engineering are accredited by the Engineering Accreditation Commission of ABET.