Wilkes University pharmacy student, Dylan Fox, was named a top ten finalist for the 2018 National Patient Counseling Competition. He was recognized at the American Pharmacists Association Annual Meeting held March 16 to 19 in Nashville, Tenn. Fox, who is only a second-year pharmacy student in the four-year program, was named a top ten finalist in a competition that includes representatives from nearly all of over 130 pharmacy programs in the United States.
The National Patient Counseling Competition is designed to reinforce the role of the pharmacist as a health care provider and educator. The competition involves a complex counseling simulation where participants select a prescription at random and are asked to counsel the patient on its safe and effective use. It measures students as effective communicators of medication information, side effects, patient concerns, proper use and storage.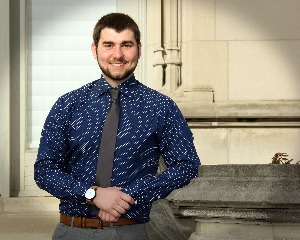 During the initial round of the competition, Fox counseled a caregiver who was picking up a prescription for a toddler. In the final round, he educated a nervous father on the use of the EpiPen device after his son was diagnosed with a peanut allergy.
"During both interactions, Dylan used his engaging personality, creative-thinking skills and patient-centered approach to ensure individualized care for each patient," said Wilkes Assistant Professor of Pharmacy, Nicole Pezzino. "He is a wonderful example of the student leaders in the Wilkes Nesbitt School of Pharmacy, securing a prestigious position in the patient counseling competition."
Fox, who hails from Denver, Pa., was recognized at an awards ceremony during the conference. He also received a monetary prize from CVS Health, a sponsor of the National Patient Counseling Competition.
"This competition has further proven the importance of counseling patients on the safe and effective use of their medications, a skill the Nesbitt School of Pharmacy emphasizes throughout the pharmacy program," said Fox. "Wilkes faculty, staff and administrators prepare, develop and educate student pharmacists to be successful communicators and leaders in the profession of pharmacy. Representing Wilkes on the national level was very rewarding."
Founded in 1996, the Nesbitt School of Pharmacy is the region's only school of pharmacy. The school develops pharmacists who will provide high quality health care and make meaningful contributions to the science and practice of pharmacy. The school awards the doctor of pharmacy degree, the primary, entry-level pharmacy practice degree in the United States.