Sidhu gave a lecture and Q&A with over 100 students, then signed and gave out free copies of his new book, Never, Ever, Ever Give Up.
As a young man who grew up in India, Jay Sidhu backpacked across Afghanistan, Iran and Western Europe with just $100 in his pocket. And he managed to make it. He moved to the United States with no money, connections or friends. In the U.S., he earned his MBA from Wilkes University in 1973, and established the Jay S. Sidhu School of Business and Leadership at Wilkes in 2004. In his lecture to current Wilkes business students, he shared his experiences from his life and encouraged them that they too can be successful. In the Q&A moderated by seniors Ariel Reed, Jesus Rios and Nick Kinzler, he took questions from the audience, then signed free copies of the book for the students.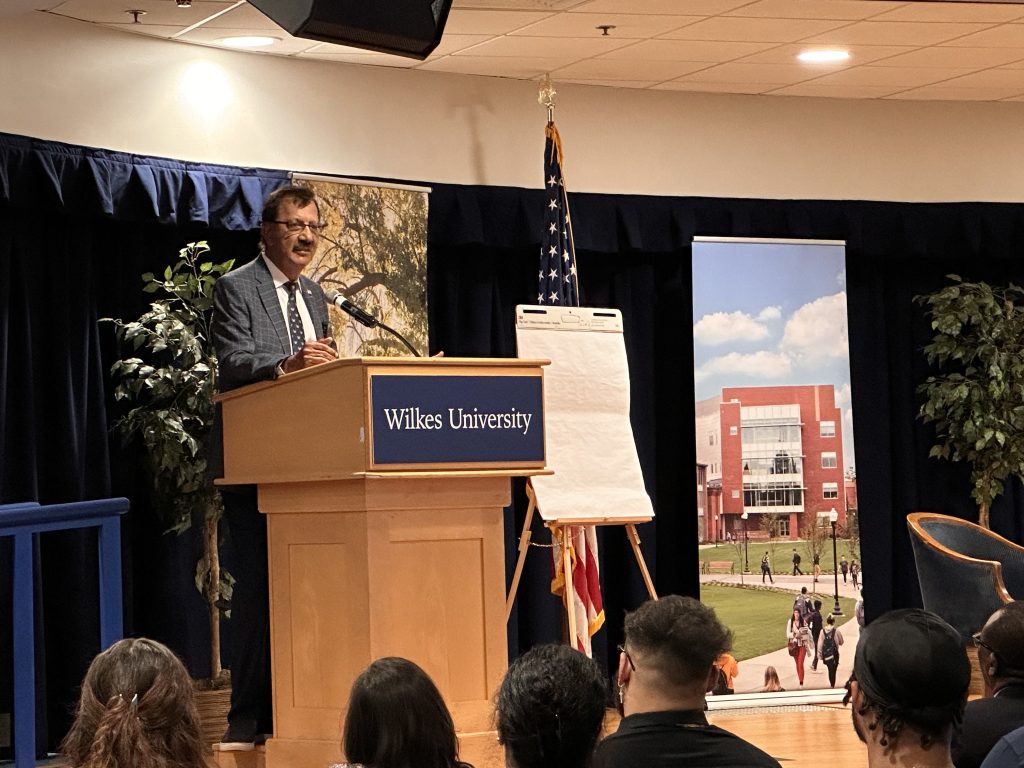 In his book, Sidhu details his journey to the American dream — from having just two suitcases to leading a Fortune 500 company. His memoir not only touches on his experience in banking but also hits on raising a family, leadership tips, personal philosophies and more. Never Ever, Ever Give Up is available for purchase in hardcover, paperback and electronic formats from Amazon.com.
Net revenues from Never Ever, Ever Give Up will be deposited to the Sidhu Family Charity or donated directly to event sponsor charities or scholarship programs. The Sidhu Family Charity was established by Jay and Sherry Sidhu of Palm Coast, Florida, with the input and collaboration of their adult children, Samvir and Luvleen. The Sidhu Family Charity supports efforts to increase educational opportunities for K-12 and post-secondary students and especially among first-generation Americans and recent legal immigrants. The Sidhu Family Charity also supports organizations that fight addiction and hunger.
Sidhu serves as chief executive officer of Customers Bancorp, Inc., and executive chairman of Customers Bank. Prior to joining Customers Bank, he served as the chairman and chief executive officer of Sovereign Bancorp, Inc. There, he grew the organization from an initial public offering of $12 million to a market cap approaching $12 billion, crediting it as the 17th largest banking institution in the country.
In the media…
Business School namesake Sidhu gives Wilkes students success advice – by Mark Guydish, Times Leader