When looking for a college, Hannah Hart of Hamilton, N.J. didn't have to choose between her passions—she was able to pursue all of her talents and still graduate on time.
As a high school student from Hamilton, N.J., Wilkes senior Hannah Hart had a dilemma. She was passionate about the sciences, but also loved visual arts. In searching for the right college fit, she thought she'd have to make some tough choices. But when she found Wilkes, she learned that she could major in environmental engineering, minor in digital design and media art, and also continue her soccer career as a Colonel. Wilkes checked all the boxes.
Her love of the environment began during a high school marine biology trip to Florida. "We were studying the water there," she recalled, "and we found microplastics in the samples we took, and that was something I was unaware of," she said. "I wanted to find out more, like who's working on this and who's trying to fix it, and I knew I wanted to be part of the solution." In her college search, she found that few liberal arts schools offered environmental engineering as a major. "A lot of the colleges that offered environmental engineering were technical schools that didn't have a lot of other liberal arts options if I changed my mind," she said.
Those other schools also didn't have Hart's favorite professor of environmental engineering, Prahlad Murthy. "Dr. Murthy genuinely cares about students and wants us to do well. It's not always just about grades and textbooks," she said. Hart was a standout in Murthy's classes. He said, "One of the finest qualities Hannah has is that she tries her best in everything she does, both inside and outside of the classroom. She is one of the best ambassadors that Wilkes can have."
With Wilkes' flexible curriculum, Hart's choice of a minor in Digital Design and Media Art was no problem, and she found engineering and art go really well together. "With graphic art, we do a lot of 3D design, so that's like engineering. Engineers make the plans and designers make the models, so the work goes hand in hand." Hart found her art classes to be a little bit more relaxing, and a lot of fun thanks to Professor Lisa Reynolds, who came highly recommended to her from a friend in the DDMA program. "Hannah has consistently been one of the highest performing students in our DDMA courses, and is an absolute joy to be around," said Reynolds. "But what I find the most exciting about Hannah's education, with her major and minor, is how she is consistently able to merge two things she is passionate about, and becomes that much more effective in both areas. She is living proof that love for the arts and sciences can coexist and in fact, create something magical when those skill sets are combined."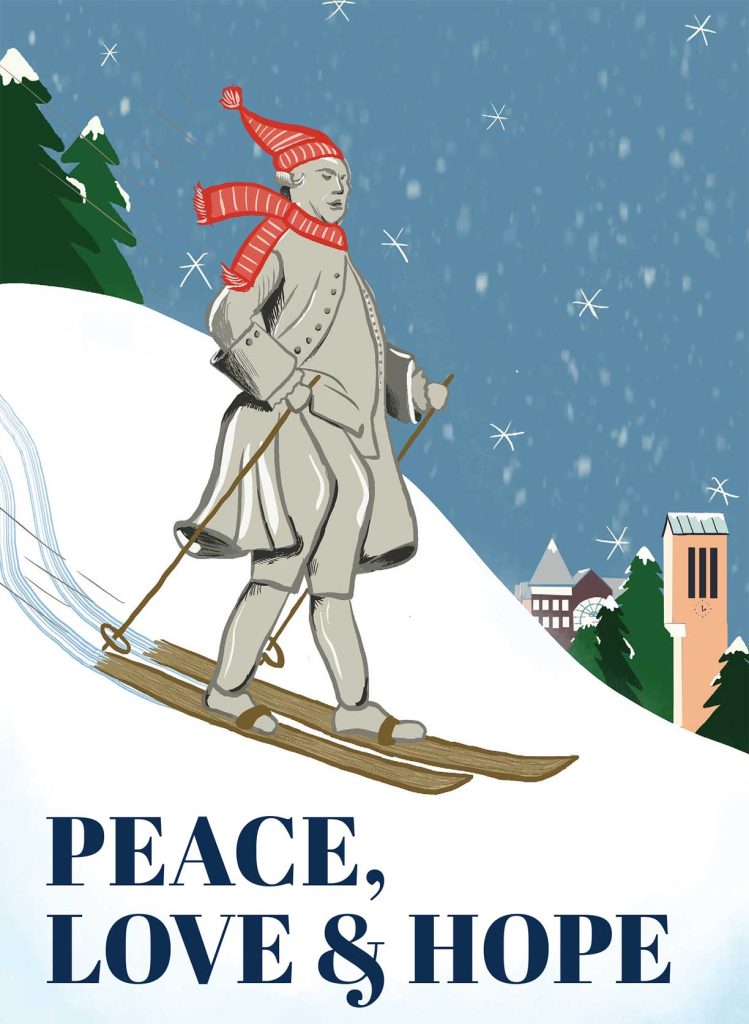 Those skill sets were on full display during the Wilkes holiday event, "Winterfest," when President Greg Cant unveiled the 2022 winner of the President's Holiday Card contest. Hart's was voted first out of many impressive submissions. During the Winterfest program, Cant presented a framed version of the illustration to Hart and announced her as the winner. "I knew that I wanted to incorporate campus, and John Wilkes, and I love skiing—so I thought it would be a cool idea to combine it."
As Hart looks towards graduating this spring, she's excited about working as an environmental engineer. She secured an internship last summer with Langan Engineering and Environmental Services in Princeton, N.J., and the company extended her internship through next summer as well. Growing up near the beaches in New Jersey, it is her dream to work in water resources, marine life and beach restoration engineering in the future.
Hannah's Top Three Pro Tips for Students:
Hannah Hart is a busy student at Wilkes. In addition to her major and minor, she is a four-year soccer player, and president of the Pennsylvania Society of Professional Engineers, a national organization with a student-led Wilkes chapter. So how is Hart able to juggle so many things and be successful? Here are her tips:
Time management is key:
Get your work done, because procrastination is not an option. Schedule your homework like you would any other appointment; especially if you have a game coming up, you won't have time to study. You may have to study on the bus while everyone else is sleeping, but you do what you have to do.
As a first-year student,
don't leave any gaps in your schedule. Take the full 18 credits the first semester, and get all of your gen eds (classes that all Wilkes students have to take) out of the way. That way, you'll be able to take a minor (around 30 credits) and still graduate on time. 
Enjoy campus life!
Some of Hart's favorite memories are sitting out on the greenway on warm days having coffee with her teammates. She also loves grabbing a bite to eat with friends at her favorite local restaurants: Margarita Azul and La Tolteca are her favorites.
FIND OUT MORE:
Student Organizations and Clubs