Audiences can enjoy a week of performances during Wilkes University's Theatre Winter Festival. This is the first year for the festival and includes performances of three plays: Silent Sky by Linda Gunderson, Laundry and Bourbon by James McClure and Mother's Day by Donald Steele. The performances will take place from Feb. 23 to the 27 at the Dorothy Dickson Darte Center for the Performing Arts, 239 S. River St., Wilkes-Barre, Pa. Times are noted below.
Tickets are $10 general admission, $5 for students and senior citizens and free for Wilkes students, faculty and staff. Parking, including handicapped-accessible options, are available behind the Henry Student Center located at 84 W. South St., Wilkes-Barre.
Audience tickets can be purchased by calling the box office at (570) 408-4540. Live-stream access can be purchased by visiting www.wilkes.edu/theatre.
Silent Sky – 8 p.m. on Feb. 23, 25 and 26
When Henrietta Leavitt begins work at the Harvard Observatory in the early 1900s, she isn't allowed to touch a telescope or express an original idea. Instead, she joins a group of women "computers," charting the stars for a renowned astronomer who calculates projects in "girl hours" and has no time for the women's probing theories. As Henrietta, in her free time, attempts to measure the light and distance of stars, she must also take measure of her life on Earth, trying to balance her dedication to science with family obligations and the possibility of love. The true story of 19th-century astronomer Henrietta Leavitt explores a woman's place in society during a time of immense scientific discoveries, when women's ideas were dismissed until men claimed credit for them.
Silent Sky stars Wilkes students Aariyana Gould, Samantha Uggla, Jack Flynn, Rylee Gaskill and Raven Wesley. It is directed by Jon Liebetrau, chairperson of the division of performing arts and associate professor of theatre, with Olivia Schanbacher serving as the assistant director and stage manager.
Laundry and Bourbon – 8 p.m. on Feb. 24 and 2 p.m. on Feb. 26 and 27
The setting is the front porch of Roy and Elizabeth's home in Maynard, Texas, on a hot summer afternoon. Elizabeth and her friend Hattie are whiling away the time folding laundry, watching TV, sipping bourbon and Coke, and gossiping about the many open secrets which are so much a part of small-town life. They are joined by the self-righteous Amy Lee who, among other tidbits, can't resist blurting out that Roy has been seen around town with another woman.

While the ensuing conversation is increasingly edged with bitter humor, from it emerges a sense of Elizabeth's inner strength and her quiet understanding of the turmoil which has beset her husband since his return from Vietnam. He is wild, and he is unfaithful, but he needs her, and she loves him. And she'll be waiting for him when he comes home—no matter what others may say or think.
Wilkes students Rachel Kern, Jay'na Johnson and Kasey Karoll star in Laundry and Bourbon with Jahel Duran-Diaz serving as stage manager. It is directed by Joseph Dawson, associate professor of theatre and associate dean of the College of Arts, Humanities and Social Sciences.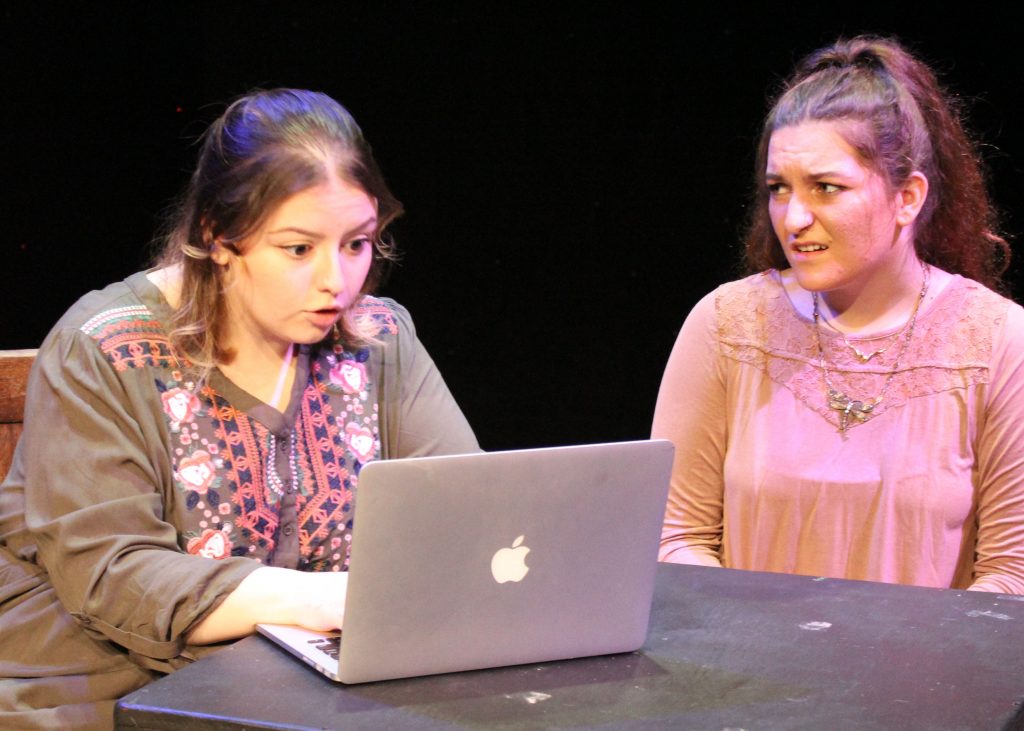 Mother's Day – 8 p.m. on Feb. 24 and 2 p.m. on Feb. 26 and 27
When it looks like neither of Margery's two sisters or her husband will be able to make the annual pilgrimage to their mother's gravesite, she's determined to keep her date. When the two sisters figure out what is driving Margery, an old guilt is put to rest and a new ritual to honor their mother is put in place. Mother's Day was part of the 6th Annual One Act Play Marathon produced by the Attic Theatre Ensemble in Hollywood, California, where it ran in June and July 1998.
Wilkes students Kayla Bevacqua, Savannah Evanski, Jahel Duran-Diaz and Melodi Wheeler star in Mother's Day with Olivia Scarborough serving as the stage manager. The director is Joseph Dawson, associate professor of theatre and associate dean of the College of Arts, Humanities and Social Sciences.