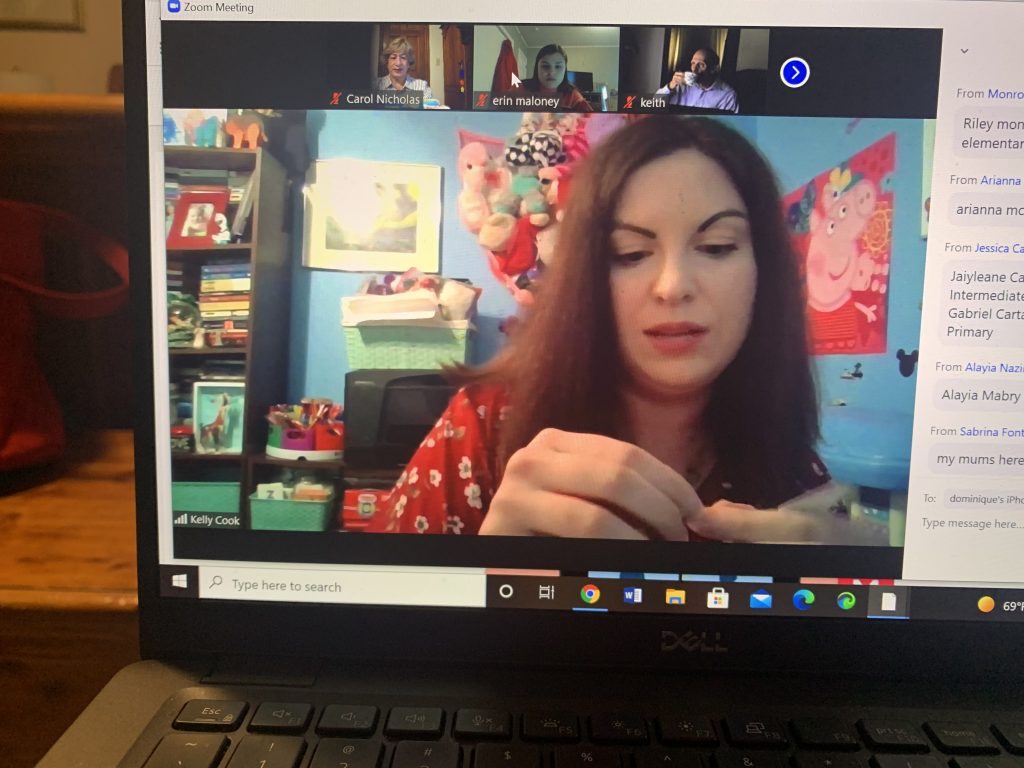 The Luzerne County Schools & Homes in Education (SHINE) program at Wilkes University celebrated the nationwide "Lights on Afterschool" project by offering a virtual "Lights On!" STEM lesson to its students and their families. Supplies were distributed beforehand to the students and included everything needed to make a flashlight with an LED bulb. The Zoom lesson, sponsored by UGI, explained where electricity comes, how it can light a bulb, and the history of electricity.
The event was in celebration of the national "Lights on Afterschool" movement, now in its 22nd year and sponsored by by the Afterschool Alliance, a nonprofit organization dedicated to ensuring that all children have access to quality, affordable after-school programs. Governor Tom Wolf proclaimed Oct. 28 as "Lights On Afterschool Day" in recognition of the important role of afterschool programs in Pennsylvania.
Carol Nicholas, the director of SHINE at Wilkes, greeted the parents with this message: "We hope SHINE helps to get your children excited about learning and that they find it fun. We also hope that we provide parents with peace of mind, knowing your children are safe, secure and supervised during the critical afterschool hours."
The SHINE program at Wilkes is a STEAM project-based after school program for grades pre-k to 12 in six school districts throughout Luzerne County. The program runs from mid-September to May, Monday-Thursday, for approximately three hours per night. Students are provided with 25 minutes of homework assistance, a hot meal, and participate in up to two hours of a STEAM-based project. Depending on the center's location, students have the option of being transported to a bus stop near their home or can be picked up by an authorized adult at the center.
Nicholas shared that the ideal candidate for the SHINE program would be students who are struggling with their academics, need additional support in STEAM subjects, and show a genuine interest in STEAM, regardless of economic background. "It's never too early for students to start thinking about their future," she said.
SHINE has at-home academic readiness programs for Pre-K and Kindergarten, an elementary program for 1-4th grade at elementary centers, and a career-centered program for 5-8 grade students at area career and technical centers.
The Wilkes SHINE program is available in these educational centers:
Wilkes Barre Area
Kistler Elementary
Heights Elementary
GAR grades 7/8
Pittston Area
Pittston Area Primary center
Pittston Area Intermediate Center
Pittston Area Middle School
Hanover Area
Hanover Green
Lywood Building
Lee Park Elementary
Hanover High School grades 7/8
Nanticoke Rea
GNA Kennedy Early Childhood Center
GNA Elementary Center
GNA Education Center
Wyoming Valley West
State Street Elementary School
Hazleton Area
Hazle Twp Early Learning Center
Maple Manor Elementary Center
Nicholas encourages those who are interested to contact the administrators in these centers for a recommendation to the SHINE program.

Find out more about SHINE program at Wilkes.