McKaylah DeKay brought her artistic talents to Wilkes and built a portfolio of professional experience.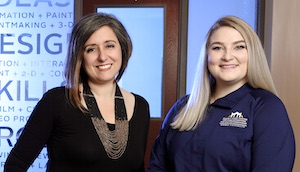 McKaylah DeKay, a senior from Athens, Pennsylvania, has had an artistic streak since she was a child. "I grew up very creative," she says. "I had to figure out how to make a career out of it."
As a digital design and media art major at Wilkes, DeKay explores her graphic design interests, as well as other disciplines in the major like video and sound editing. "We're getting experience in all of these areas. It really helps broaden our horizons."
DDMA classes mix theory and project work, so students gain hands-on experience in the classroom. DeKay is another step closer to life as a professional designer thanks to her campus activities.
She serves as president of Studio 20, a student-run club that provides design services for campus clients and the local community, working on real-world projects such as logos, brochures, posters, websites and video.
Studio 20 members coordinate everything from application review through final execution. They choose which projects to pursue, share initial drafts, meet with clients, make revisions based on feedback and present the client with a finished product.
Whatever the project, DeKay can always turn to Assistant Professor Lisa Reynolds for guidance. "She always gives you the opportunity to make yourself better as a creative," says DeKay. "She always pushes you to break the rules in a good way."
Reynolds, who worked as a professional designer before becoming a teacher, wants students to get a glimpse of life as a working professional, including the back-and-forth of client interaction, design and revisions. "I regularly open my laptop and let students in on that process," says Reynolds. "How do you turn challenges into productive situations? We're solving problems all the time."