Maverick Reed says his biggest personal goal is to "always keep moving, and never cheat the day away." One of the ways he's been able to do that at Wilkes University has been through the Wilkes Adventure Education (WAE), which has helped him transition from a follower to a leader.
Wilkes Adventure Education, known affectionately by students as WAE, is a program dedicated to cultivation and development of self-confidence and environmental appreciation. Through the program, students are able to participate in activities such as hiking, yoga, rock climbing, ropes courses, and biking.
Reed, a fifth-year pharmacy student from Curwensville, Pa., first discovered adventure education when Jill Price, coordinator of the program, introduced herself at orientation. 
"The mentality that Jill puts out, right off the bat she is very welcoming and warm. She knows that everyone has their own limit, but she is willing to push you past your limit a bit into what she calls 'the growth zone.'
"You feel comfortable, but at the same time you are experiencing growth to your own personalities and skillsets," he says. "Through the years, I continued to learn new skills that she was willing to provide, from being a facilitator, group organization, and really just leadership in general."
Reed says the program allows him to "wake up every day and know [he] did something productive."
"A lot of it was being a follower in the beginning, and then having her transition me, or any other facilitator, into a leader," he explains. "The first year, maybe you help lead something or you just watch, and then the next year, now that's your project. You still have help and all of the support there, but as you go on you become more independent."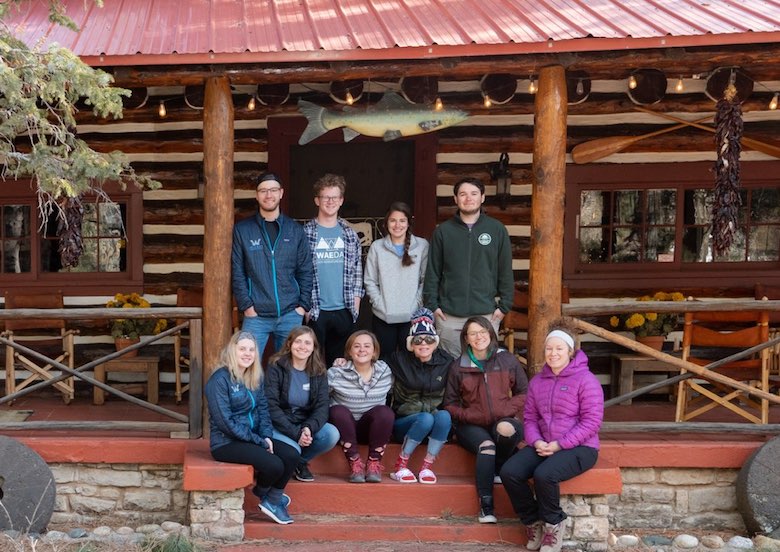 One of his favorite parts of Adventure Education is the annual spring break trip. This year, the group went to the American southwest. Part of this trip also included visiting a past spot, a cabin in New Mexico which Reed and the group first visited in 2015, as well as hiking the Bright Angel Trail at the Grand Canyon.
"We were able to plan and adapt to overcome challenges both while hiking and camping," Reed says.
The group also met with Grand Canyon park ranger and Wilkes 2017 graduate Grace Cadigan. Cadigan's first experience with the Grand Canyon was part of the first-ever Adventure Educatiion spring break trip.
"In the planning, one of the first things we ask everyone interested is what do you want to see?" he says, describing the process for determining the itinerary. "Do you want to do something personal, or do you just want to go out west and see a cactus? If that's your goal, we want to make it happen."
The trips are paid for through fundraising, club funds, petitions to student government, and out of pocket.
Outside of spring break, the program has plenty of activities, which Reed says has helped him "get out of [his room] and stop thinking about schoolwork."
Most activities organized by Adventure Education are guided and decided on by the student leaders of the group. In fact, this student involvement, inside and outside of adventure education, is Reed's favorite part of Wilkes.
"If you want to make an impact on campus, it is completely possible. Really you can start anytime, as long as you have the motivation, the drive and you use your resources on campus to find the correct advisor or person to talk to."
Outside of adventure education, Reed has made an impact on campus through his involvement with other student activities. He is the president of the Nesbitt School of Pharmacy senate, as well as a member of the student affairs committee. For three years, Reed was also a resident assistant.
"Coming into Wilkes, I knew I wanted to do a lot more than I did in high school. Joining more clubs, be more active on campus, and just get out there."
Reed is also part of the Health Profession Scholarship Program, that offers scholarships to students in the medical or dental school programs in exchange for active military duty, through the U.S Army, Navy or Air Force. This scholarship has helped him pay for tuition and other living fees. Reed will have three years of active duty in the Air Force and five years of inactive reserves.
He first learned of Wilkes through the pharmacy school's positive reputation and its prestigious guaranteed seat program. The two-year program enrolls 90 students during their freshman year and is designed to prepare students to continue education in the School of Pharmacy's four-year program.
"I liked Wilkes for the services they offered, along with the guaranteed seat program. I really liked the feel of the campus — it just felt right."
Reed identifies Scott Stolte, dean of the Nesbitt School of Pharmacy, and Ajay Bommareddy, associate professor of pharmaceutical sciences, as two individuals who have helped him in his pharmacy journey.
After completing his required years of service via the Health Profession Scholarship program, Reed has the option to continue his Air Force career or to work in the pharmaceutical field.
"My professional goals are to keep analyzing my strengths and weaknesses, seeing what I need to improve on, and using that to cater my future career."