Greg Cant, Ph.D. will join Wilkes in June 2020.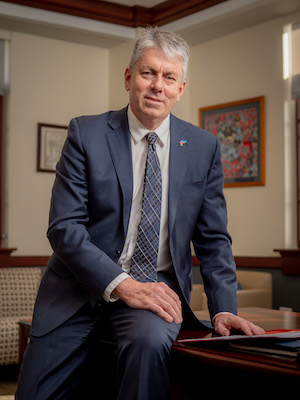 Wilkes University's Board of Trustees announced today that Greg Cant will be the University's seventh president. Cant, currently serving as the dean of the Feliciano School of Business at Montclair State University in New Jersey, will join Wilkes effective June 15, 2020.
Cant's appointment follows a national search that began in February 2019. He succeeds Patrick F. Leahy, who is now president of Monmouth University. Cant is regarded as a visionary academic leader who grew enrollment at previous institutions by developing a variety of innovative and market-driven programs.
In announcing the appointment, board of trustees vice chair, Bill Miller '81, said that Cant will provide the leadership to continue the University's momentum as a small doctoral university like no other.
"Wilkes is emerging from an era in which we completed our evolution from a junior college in 1933 to a national, doctoral university in 2019. We need a visionary leader who will continue this momentum and move us to new levels of excellence," Miller said. "We are confident Greg Cant is that leader. His track record as a global educator, a successful fundraiser and an innovative and collaborative administrator make him exceptionally qualified to lead Wilkes in this next chapter of our history."
Wilkes board of trustees chairman, Dan Cardell '79, who chaired the presidential search committee, said that Cant emerged from a national pool representing a diverse array of academic experience. "Dr. Cant offers a distinct combination of academic, administrative and leadership experience that stood out among our field of candidates. Few can claim the enrollment, fundraising and academic achievements as Dr. Cant. He has a clear vision for how to continue to advance our students and our University. We are pleased to welcome him as our seventh president."
The announcement of Cant's hiring concludes a nearly year-long national search conducted in partnership with Park Square Executive Search. An 11-member presidential search committee
included two students, two administrators, two faculty members, one staff member and four members of the board of trustees.
"I was attracted to Wilkes not only because of its stellar reputation, but also because of the way it serves its students. With strong academic offerings from bachelor's through doctoral levels, an emphasis on small classes and hands-on learning and a commitment to first-generation students, Wilkes is uniquely positioned to continue to thrive. I am honored to be chosen to lead this institution," said Cant.
A native of Australia, Cant has 30 years of experience as an educator and administrator in the United States and abroad. He has served as the dean of the Feliciano School of Business at Montclair State University since July 2015. As dean, Cant provides strategic leadership for a business school of more than 3,700 students and 300 faculty and staff members. Under his leadership, the school developed and implemented over two dozen programs that enhanced enrollment and academic quality, leveraged interdisciplinary expertise and addressed critical market needs. During his tenure, the Feliciano School of Business experienced overall enrollment growth of nearly 50 percent, including a graduate population that grew by 115 percent.
Prior to his role at Montclair State University, Cant was the dean of the Offutt School of Business at Concordia College in Minnesota. Cant worked with key constituents to transform Concordia's business program into a comprehensive business school. Under his stewardship, the Offutt School established an intensive new curriculum, grew its faculty and staff, developed new initiatives and programs and raised more than $56 million.

Cant has held positions as a faculty member, administrator, faculty leader, department chair and academic dean at three research-intensive universities, a regional state university and a selective private liberal arts college. He also served as a professor in Guangdong, China. He has worked in the United Kingdom, as well as in his native Australia.
He holds his doctor of philosophy degree from the University of Western Australia and a master's degree in industrial relations from Queen's University in Ontario, Canada. He also earned his bachelor's degree in industrial relations and economics from the University of Western Australia. Cant's research interests include cross-cultural management, particularly in China, business ethics and business pedagogy.
Cant's family includes his wife, Angela, and four children: Callum, 28, and Genevieve, 26, in Australia, and Eliza, 18, and Jackson, 17, at home. For more information about Greg Cant, including photos, please visit www.wilkes.edu/incomingpresident.