Wilkes University senior Ben Mandell has loved sports since he was a kid. While his friends were tuned in to Saturday morning cartoons, he was watching sports talk shows with his dad. It paid off because now the Edison, N.J., native is on his way to a career in sports broadcasting and reporting.
When Mandell was a senior in high school, he wrapped up his final football season thinking the game was over for him. But when college recruiters began scouting, he found his way to Wilkes. "The main reason I found Wilkes was because of football recruiting," Mandell explains. "But the main decision was what fit best academically and where I was comfortable most if I wasn't playing football."
Ever the realist, Mandell knew his future wasn't going to be as a professional athlete. But the opportunity to play football at Wilkes as an offensive lineman while double majoring in communication studies and history was a slam dunk. "I felt the best way to get involved (in the sports world) was to be a broadcaster or a journalist," he says. "This is something I've wanted to do since I was a little kid and it stuck."
Mandell was quick to join co-curriculars like the student-run radio station 90.7 WCLH and campus newspaper, The Beacon. Mandell is the co-host of the broadcast, Sports Talk with fellow student Luke Modrovsky. On the show, the duo covers various athletic events, travel to games with the Colonel athletics teams and network with the Wilkes athletics department.
Being live and on-air was only the beginning. Mandell then scored a position with The Beacon, first as the assistant sports editor during his sophomore year. He then went on to the positon of co-sports section editor. While the on-campus coverage was a great portfolio piece, he gained attention from the Wilkes-Barre-based daily newspaper the Times Leader. Because of his work with The Beacon, he was asked to join the Times Leader as their sports intern. He's been with them now for a year and a half.
"If I never took the assistant sports editor position and then moved up to co-sports editor, I never would have gotten the internship with the Times Leader," Mandell says. "I have professional field experience. I have covered the professional teams around here like the(Wilkes-Barre/ Scranton) Penguins and the Rail Riders and I've spoken with professional athletes that I didn't think I would at this point in my life, for stories."
Mandell has taken each opportunity in stride. He gives credit to the support of his team and the standards set for team members. "With football, it's a different kind of expectation you're held to. I don't know if I'd have the same work ethic without the motivation that these guys have provided and the expectation they have set for me and the rest of the team."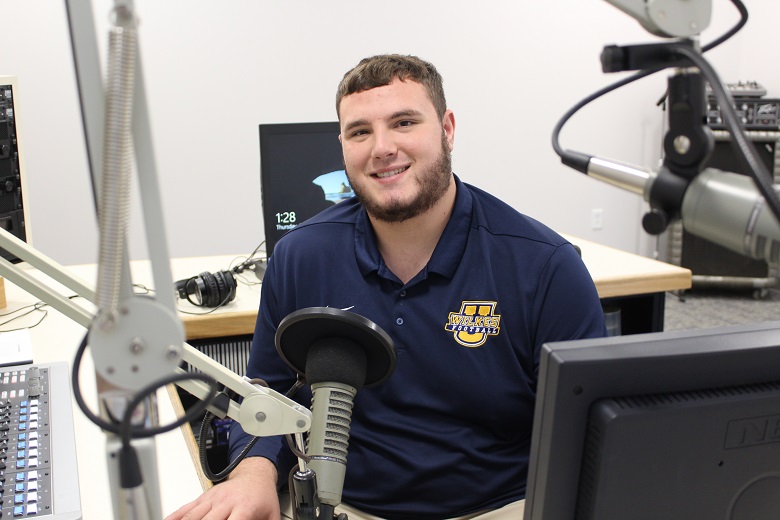 Looking ahead, Mandell hopes to land a career in sports broadcast for a major network saying his dream job would be working for a primetime network calling hockey games.
With experience under his belt and a positive look into the future, he notes his experience at Wilkes will be key to his future success. "Wilkes has put me in a tremendous position to succeed and at this point, it comes down to what do I do with the opportunity that I've been given."
To keep it locked and up-to-date with WCLH, check their Twitter to find them at the next game at @WCLHsports. You can read Mandell's stories in-print and online at thewilkesbeacon.com.