Wilkes University senior Victoria Morrison is an international traveler with a sweet local business. The hospitality leadership major recently opened her own home bakery, The Salty & Sweet Baking Co., as part of the class Entrepreneurship 398: Launch Your Business.
Just because class is over doesn't mean the pastries are going anywhere. "I chose something that would allow me to still be a college student," the Forty Fort, Pa., native explained. Her bakery operates by order, not by the hour. She says it allows her to have a "more personal" connection to her clients and the product she creates.
"After switching out of the entrepreneurship major this semester, I still wanted to stay in that class," she explains. "I was in that class because I wanted to run a café. But as we went through class… it dawned on me that the business had to be launched and that it wouldn't be realistic thus, I ended up with a home bakery."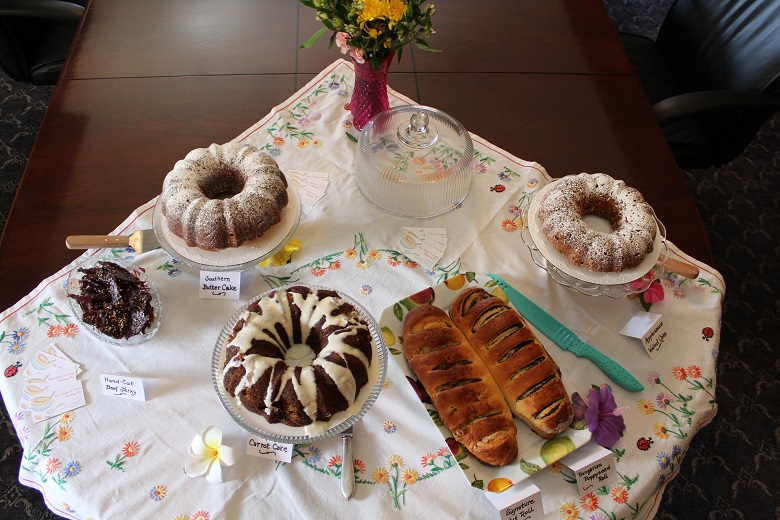 Morrison's treats will be available for purchase in the fall on her Facebook page @thesaltyandsweet. She plans to offer the baked items in what she calls "spreads" having only a handful of products available at a time. The Salty & Sweet Baking Co. was on pause for the summer because Morrison was in Kuala Lumpur, Malaysia for an internship with Parlo Tours, a travel company that has been in the industry for more than three decades and is now rated as one of the top travel agencies in Malaysia. There, she worked in the marketing department and received an international perspective of the tourism and hospitality business
After completing her internship in July, she traveled to Seoul, South Korea for a summer study abroad experience. She studied at Hanyang University, taking courses in business statistics, macroeconomics and Korean pop dance.
This wasn't a totally new experience for Morrison. The previous summer she also studied at Hanyang University, becoming the Class of 2018 representative for their summer abroad program. The passion for travel is part of her and something she shares with the Wilkes campus community as one of the study abroad ambassadors. Through the program, she is a point person for interested students as well as a promoter for campus possibilities.
Through the experience with Wilkes and Hanyang University, Morrison has forged her own path into international travels once she completes her degree. Exploring the possibility of taking a gap year after graduation before starting up her business full time, Morrison is considering traveling to Asia to teach English for a year, putting her newly acquired TEFL certification to work. She's also gained experience as a teaching assistant for the after-school program SHINE of Luzerne County at Wilkes University.
She says that this gap time will allow her to build her savings and give her time to gather new recipes to bring home. Morrison hopes that with this new knowledge she will be able to expand her bakery into her ultimate goal, an international coffee shop with the highest quality recipes and hospitality.
Morrison notes that her Wilkes experience has helped place her on the right path. "I didn't quite know what I was looking for; I had way too much going on. Then I came here and sat in on an accounting class. The professor was so lively, he hooked me," she explains. That connection with professors really struck Morrison, who explains she "grew up on this campus" with her mother, Gina Zanolini Morrison, professor of Global Cultures.
She says many faculty members have been mentors for her campus and international endeavors. She notes HyeRyeon Lee, assistant professor in the Sidhu School of Business, Morgan Clevenger, former assistant professor of entrepreneurship, Jennifer Edmonds, former associate dean and director of the graduate program in the Sidhu School of Business, and Woojun Lee, assistant professor in the Sidhu School of Business. All have aided her in her campus and international endeavors.
Reflecting on her Wilkes experience, Morrison explains that the one thing that has helped her pursue her dreams was this: "Find a support system." She concludes, "I have the full support of a tight knit family at home and here at Wilkes. I have this family—I know they're my teachers but they're family—a different type of family."