In spring 2020, Simon Chu will graduate from Wilkes University at the same age most students begin their freshmen year. But being ahead of the class is nothing new for the 18-year old who skipped two grades in elementary school and began his college career at Wilkes at 15.
"It feels weird sometimes because people around you are always older," Chu says of his success. "But it was special when I came to Wilkes. President Patrick Leahy mentioned me during his speech and it was pretty special for me."
Although he's younger than many of his classmates, he has excelled academically. The computer science major has been selected to attend Carnegie Mellon University's Research Experiences for Undergraduates in Software Engineering program in summer 2019 where he will study a blockchain programming language called Obsidian.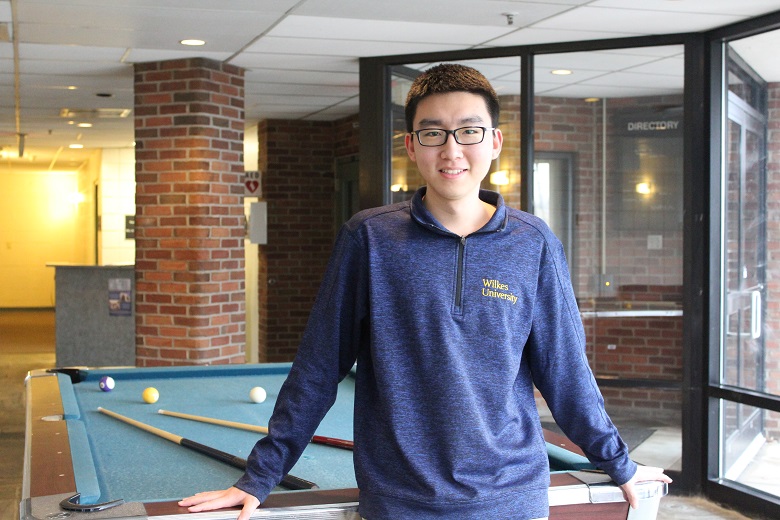 Chu credits his Wilkes experience for preparing him for the opportunity, saying, "I think it would be helpful for prospective computer science students to see the possibilities of doing such research projects, and realizing that the Wilkes education in the field of computer science…. prepares them for research in cutting-edge technologies."
Chu is from the small northeast city of Liaoyuan in China but Wilkes was always on his radar. His uncle, Gene Chu '89, is a Wilkes alumnus who also came to the University as an international student. Like his uncle, Chu came to Wilkes without much knowledge other than a great recommendation.
"My uncle recommended me to go here," he says. "I explored a little on the Internet because I couldn't physically come here if I didn't get a visa, and if I didn't get accepted then I couldn't get a visa, so that is the only way I could explore Wilkes."
When he came to campus, he admits it was lonely at first, but he got involved in campus activities and everything changed.
"Getting involved will make you feel less lonely. I was a little lost at the beginning, but as time goes by you meet people," he says. "The first person I talked to was (communication studies junior) Caroline Rickard, and she was very welcoming. We lived in the same residence hall, right next door to each other, and living on campus helped a lot because I made a lot of friends."
Chu joined the residence life community and is now a resident assistant (RA). He is also an e-mentor, an undergraduate researcher, a software developer for the Digital Design and Media Arts department, and president of the Mathematics and Computer Science Club. He manages to balance all these activities while completing a computer science major and mathematics minor.
The teenager who was smart enough to be the youngest member of his class started as an electrical engineering major because he was nervous he couldn't manage the computer science major. However, after talking to multiple faculty members, Chu followed his passion and switched his major the second semester of his freshmen year.
"I heard people saying computer science was too hard and just so difficult, and I wasn't sure if I was smart enough for it," he explained. "But I wasn't passionate about engineering and Wilkes gave me this confidence to pursue what I believed in, what I liked, and what I was passionate about."
Chu credits his father for his passion with computers. They assembled gaming computers when Chu was only five or six years old, and he learned about their components. This passion for learning continues at Wilkes and according to Chu, the faculty and staff continue to encourage his eager mind.
"It's very small and you have a lot of opportunities to talk to your professors, not only in class but outside of class," he says. "Sometime I go to lunch with them and talk about our daily lives. I have a lot of resources that I can access and that are always available to me. They are really supportive. It is a very challenging major as I advance in it, but I never thought of giving up, just keep trying."
Chu is already thinking about pursuing an advanced degree, but his end game is to use the knowledge gained at Wilkes to help society. He knows he is in the right place to help him figure out his future.
"You can have a great experience here if you keep an open mind and meet people," Chu says. "Talk to faculty members, they are really supportive and will help you decide what you want to do in the future. And just have fun! Learn to relax. Things can get intense at time with finals and school."
Even if it seems like life is getting intense, he knows the close-knit community at Wilkes will always be there for him.