As an elementary/early childhood education major and student-athlete, Michael Brown spends his time reading, writing and wrestling.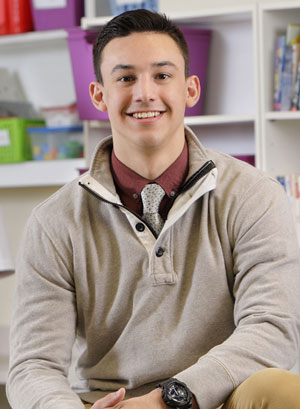 Michael Brown, a junior from Plains, Pa., grapples with a schedule that keeps him on the move. In addition to his time in the classrooms on campus, his pursuit of dual certification in elementary and early childhood education with a reading minor requires field experience, which means spending 72 hours with youngsters at three local schools.
A precursor to student teaching, field experience lets Brown plan mini-lessons, interact with students and observe teaching styles. "I get to see all different kinds of student behavior and teaching strategies," says Brown.
For tips on teaching or life in general, Brown can go right to Professor Diane Polachek, who not only offers advice, but wants to hear what her students have to say. "I share professional knowledge, perspective and insight, but I also listen," says Polachek. "Communication has to flow in both directions. It's a two-way street, a true collaboration."
When he's not focused on education, Brown can usually be found practicing, training, competing or just hanging out with his fellow wrestlers. That doesn't mean time with the team is all fun and games. For the first half of each semester, the team sponsors study sessions – mandatory for freshmen – four nights a week. "It's all about discipline and being mentally focused and mentally tough. That transitions to being the best that you can be in the classroom," says Brown, who wants to teach and coach after graduating.
Head Coach Jon Laudenslager checks in with professors to make sure his wrestlers are present and productive in class. He regularly touches base with members of the team in the weight room and the cafeteria, and sits down for formal one-on-one meetings twice a semester. "We see them a lot. We're involved with them. It's our whole coaching staff, not just myself," says Laudenslager. "We have a good team environment for success. Our door is always open."