The 26th annual Taste of Wilkes catered amazing homemade food, a welcoming community and charitable giving!  Benefiting the United Way of the Wyoming Valley, students, faculty, staff and members of the campus community gathered in the Henry Student Center Ballroom on Nov. 6, to enjoy delicious dishes made by members of the Colonel community. This year, approximately $1,000 were raised for the cause.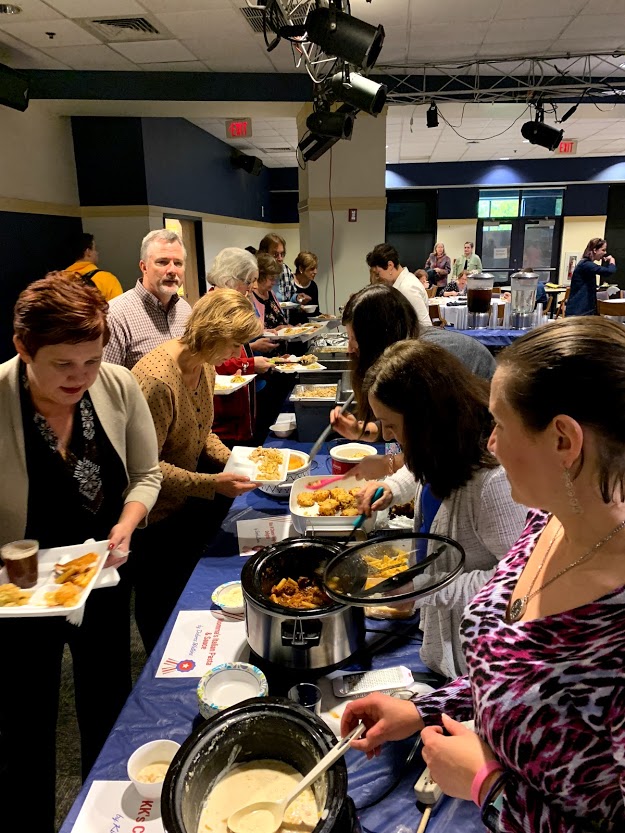 For just $5 at the door, attendees had a chance to bid for silent auctions and try various dishes including Chicken Tater Bake, Sweet Potato Pie and Momma's Italian Pasta and Sauce. And of course, the winning fan favorites.
This year, the winning dishes were:
First place: Laura Zajaczkowski Shumlas, staff accountant in finance, brought home the gold with her Mac N Cheese Wing-Fling Delights.
Second place: Margy Sromovski, office assistant in pharmacy practice, with her Broccoli and Cheese Casserole dish.
Third place: Mary Ann O'Brien, nursing doctoral student, and her treat, Grandma Jean's Cookies.
The winners all received gift certificates donated by the United Way of the Wyoming Valley and first place will have her name and winning dish engraved on the Taste of Wilkes plaque.
Reflecting on the event, the winners explained that Taste of Wilkes is a great way to connect with the campus community.  "As a working professional and Wilkes doctoral student, I deliberately seek opportunities to volunteer in the Wilkes-Barre community at least a few times per year," O'Brien said. "As an online student, I was able to connect in person with many members of the Wilkes Community."
Zajaczkowski signed up for the competition with co-workers to make it an office affair and was happy to bring home the gold with her liquid gold cupcakes. "It is such a compliment that there were so many wonderful dishes being tasted and that mine was the fan favorite!  It was such a humbling experience to participate in something for such a great cause. I signed up to do this event with two individuals from my office that made the event even more meaningful to me, to be able to compete and do this together," she said.
Sromovski has been a favorite multiple years in a row, evening winning in the past. She says she does it though to share her recipe with the community and donate to a cause. "I always enjoy participating in the "Taste of Wilkes" and seeing our Wilkes family (faculty, staff and students) every year and that they like the broccoli and cheese casserole, I make the recipe for everyone to enjoy," she said. "I do get requests in the hall "Are you doing the Broccoli and Cheese Casserole this year, I look forward to it every year", that makes me feel good!
Her broccoli and cheese casserole also has a helping of green which Sromovski says, "makes me happy and the mom and grandmother inside me is saying, good you are getting your vegetables."
Check out some of the featured recipes below!