Wilkes junior Hunter Hughes is constantly on the go as student government president. Attending meetings, checking emails and leading campus initiatives may seem demanding, but to the Kingston, Pa., native—it's a worthwhile experience.
"It's a lot to take on. I'm always going," Hughes said. "It feels like I'm never off, it's going from one thing to the next. But that's how I like to work because then I'm always busy. I don't like sitting around."
Hughes has taken charge on various campus initiatives including on-campus smoking policies and identifying innovative ways to decrease spending in his organization. But he also wants to ensure that his time is used to build the leaders of the future. "We're trying to cultivate leadership and make sure we're reaching out and being transparent with what we're doing."
Though his schedule is packed minute-to-minute, he still maintains other extracurricular involvement. When Hughes isn't at student government meetings or organizing events, you can find him participating in Wilkes Adventure Education activities or on the intramural soccer team as a goalie.
Currently enrolled in Wilkes' Honors Program, he is also a Guthrie Scholar. The Guthrie Scholars program is designed to give qualified juniors and seniors at Wilkes who are interested in pursuing careers in medicine the opportunity to earn 15 credits while gaining first-hand knowledge of the life of a physician.
Next fall, Hughes will be placed at Guthrie Robert Packer Hospital in Sayre, Pa., where he will shadow individuals from all areas of medicine including the emergency room, surgery and life flight. Hughes has his heart set on emergency medicine and hopes to pursue that as his senior capstone and eventually a career.
Through the program, Hughes has a guaranteed seat at Pennsylvania State University, Hershey, Pa., as long as he maintains his 3.5 GPA and scores well on his Medical College Admission Test.  His interest in medicine grew out of personal experience.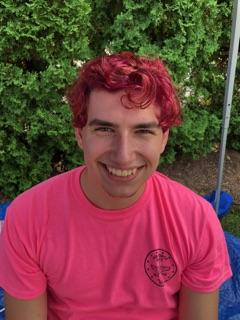 "When I was five, my mom got breast cancer and fought it," Hughes explained. She eventually passed away in October of 2017 after the disease recurred. The way in which he saw the world of medicine through that experience, as both a scientist and the son of a patient, resonated with him.  "I couldn't do oncology, I couldn't deliver that news," Hughes said. "But I want to contribute and seeing how doctors treated her and how they helped increase her quality of life and helped her, meant so much."
Hughes is still actively involved in raising awareness about  breast cancer. During Breast Cancer Awareness Month in October, he participated in an event, dying his hair pink and then shaving it off to raise money for research. 
Hughes is ready for the next step. His experience at Wilkes helped give him the tools needed. Growing up across the river, Wilkes was always part of his social backdrop, but for him, it became a second home. "I'd say to local students… even though Wilkes has been in your backyard growing up and you may think you want to go far and wide and travel, Wilkes is… an excellent choice. Give it a shot. When you get on campus, it's more than that place that was in your backyard. The campus community and the feel is so much more than the place down the street."