The Allan P. Kirby Center for Free Enterprise and Entrepreneurship at Wilkes University is celebrating 25 years of promoting entrepreneurship in the region. The anniversary is being marked with a dinner at the Westmoreland Club on Nov. 16.
The center serves as a bridge between industry, academia and job creation, leveraging the intellectual and physical assets of the University and connecting them to business and industry in northeast Pennsylvania. The Kirby Center also leverages resources such as TedBridge, Ben Franklin Technology Partners, the Wilkes University Small Business Development Center and the Family Business Alliance to create opportunities for job creation and economic growth, which are the goals of entrepreneurship.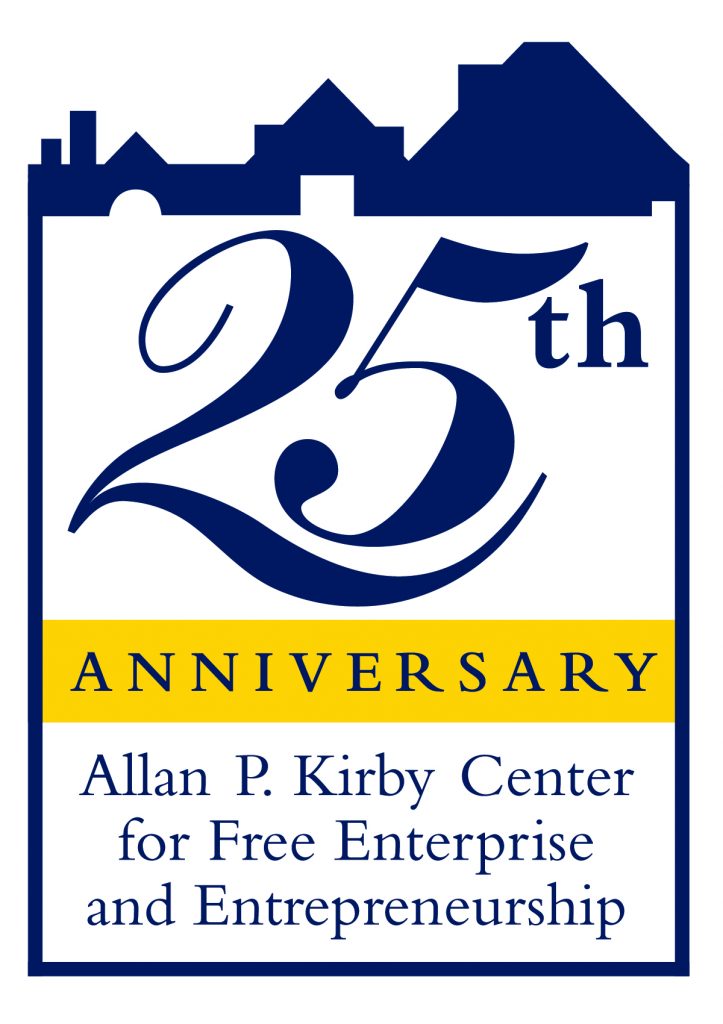 In 2017-2018, 11 new businesses received their start through the center, bringing its client roster of new and established business to more than 50. The Allan P. Kirby Enterprise Center, a business incubator, provides space for some of the businesses. Other services include mentoring from a team of seasoned volunteer business people, providing in-kind services in legal, marketing, manufacturing and technology.
Rodney S. Ridley Sr., executive director and distinguished professor of free enterprise and entrepreneurship, said the anniversary is an opportunity to celebrate the Kirby Center's growth.
"Over the last 25 years, the Allan P. Kirby Center for Free Enterprise and Entrepreneurship has grown and evolved," Ridley said. "The center has evolved from a one-person operation that focused on singular course development, introducing entrepreneurship as a true academic discipline, and is now becoming a force for positive economic and community impact.
"This year, we celebrate the Center's rich and diverse history as well as providing a glimpse into what's potentially coming in the next 25 years. Even though the Allan P. Kirby Center is a relatively small organization, we have become a catalyst for economic and entrepreneurial change and are effectively showing how free enterprise and entrepreneurship can be used to change our University, our region, the country and potentially the world."
An Overview of the First 25 Years
The center and its location on West South Street were established in 1993 through a generous gift from Allan P. Kirby Jr. Working with then-Wilkes President Christopher Breiseth and the University's chief financial officer, Paul O'Hop, Kirby established a center that would promote  and practice free enterprise and entrepreneurship as central to American society. The center was named in honor of Kirby's father.
The center's earliest focus was academic, providing the region's first undergraduate major in entrepreneurship at Wilkes. Arlen Lessin served briefly as its first director. In 1996, Jeffrey Alves became director and distinguished professor of entrepreneurship. An established leader in entrepreneurship education, under his leadership the University established majors and minors in entrepreneurship in the Sidhu School of Business as well as a concentration in the Master of Business Administration Program and interdisciplinary programs with other departments on campus.
During the 25-year history of the center, the Allan P. Kirby Lecture Series has been one of its most successful initiatives, bringing to campus leaders in a variety business-related fields. The day before the anniversary celebration, the Allan P. Kirby Lecture, will be delivered by Jake Wood, founder and CEO of Team Rubicon, a nonprofit organization that trains and deploys military veterans to disaster zones in the U.S. and around the world. Wood spoke about "The One and the Nine: Building Teams and Organizations that Win." Past lectures included Steve Forbes, chairman and editor-in-chief of Forbes Media, Andrew Ross Sorkin, author of Too Big to Fail, Jerry Greenfield, co-founder of Ben and Jerry's Ice Cream, and Martin Eberhard, founder and former CEO of Tesla Motors, among others.
With the advent of Ridley in 2014 as executive director and distinguished professor, the center developed a new focus, providing support and services designed to help start-up businesses to grow. Since 2014, the center has provided help to 131 clients at various stages of business development. Support provided to businesses includes office space in the Allan P. Kirby center's business incubator, and a full range of services provided via a network of volunteer business mentors.
Wilkes students derive additional benefits from the center via the Kirby Scholars program. This group of student is selected via a rigorous application process among Wilkes' academic departments. They benefit from networking and mentoring opportunities. Most importantly, they add valuable experience to their resumes via the work they do with the businesses associated with the center.