Senior international studies major Neishmy Rodriguez of Scranton, Pa., is working toward a career in the political field with hopes to empower women along the way.
Rodriguez got a head start making her career dreams a reality when she completed an internship at Running Start, a nonprofit organization that introduces young women — and men — to the Washington, D.C., nonprofit world, providing numerous opportunities for professional development and political training.
"Mark Kaster, (veterans counselor and earth and environmental science lecturer) found me one day in the Student Center and asked me if I was doing something for the summer and if I was interested in doing an internship," she said. "I really wasn't interested in doing an internship, but he sent me the link and told me to think about it and think it through."
Rodriguez was one of around 10 to 15 people who was selected out of 100 applicants from all over the country to work with the group. Her hard work continues to pay off as she was accepted to attend the Women Leaders Global Forum in Iceland in November 2018 as a Running Start and U.S. delegate. At the the forum, women leaders discuss and share ideas and solutions on how to further advance society, increase gender equality and promote and positively develop the number of women in leadership positions.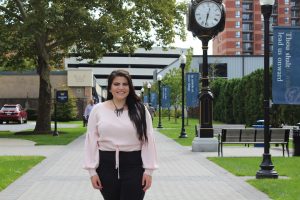 As an intern, Rodriguez took on substantive projects to help plan and implement Running Start's programs and participated in the trainings offered during her internship semester. She accomplished this as she also continued to work full-time as a server at Olive Garden in Wilkes-Barre.
"I commuted every week," she said. "I stayed (in Washington) for three to four days out of the week, and. if weeks were busy, then I would stay the whole week. I lived in an internship Airbnb, which saved money. And when I would come home, I would work the days I wasn't there."
Rodriquez helped prepare the Young Women's Political Leadership Program, a week-long program for 60 high school girls that introduced them to the power of political leadership. She also helped prepare the Resilience Summit where women learned how to build political confidence by learning from failure.
"The leadership program helps the girls learn how to run for office, teaching them how to campaign properly, give short elevator speeches and network, while the Resilience Summit taught that 'you don't fail, you just learn to do things differently,' " she said. "This was my favorite week of the internship. I saw how some girls are so set on becoming a leader and that persuaded me to work even more toward women's empowerment. These girls saw me as a mentor and a leader and I got to share my story on how I got into Running Start and how I got into college, and a lot them still talk to me and ask me questions on how they can solve certain problems."
Rodriguez says that she is the first generation to "even graduate high school" and the daughter of a hard-working, single mom. Her determination and work ethic to become the first in her family to earn a college degree is what brought her to Wilkes four years ago.
While these circumstances seem like hurdles to most, Rodriguez became a leader on campus, leading her to the prestigious internship and the invitation to the global forum. She started off as a nursing major, but soon found out if just wasn't the right major for her.
"I then went undeclared for a couple weeks and then I met (political science professor) Andrew Miller and took his comparative politics class and that was where I recognized that my interest was international affairs," she said.
Rodriguez saw the potential to be a leader when it came to politics, and decided on international studies major with minors in political science, women's and gender studies, and sociology. She is also the secretary for the UNICEF Club,and the vice president of the Wilkes Political Society.
"You get to help people in politics," she said. "The internship and Young Women's Political Leadership program definitely impacted my life because one of my goals is, if I can change at least one person's perspective on leadership or women's empowerment, then I know that I made it."
Even while working 12-hour days with the internship and working full-time back at home, Rodriguez made it a priority to network in Washington and start planning for her future. She hopes to take a gap year before attending graduate school.
"I want to gain as much experience in my field as I can," she said. "With Running Start, they introduced me to important people in foreign policy and foreign services, and even though we were working events, they still encouraged us to get in and network as much as we can."