The Borzell family has presented Wilkes University with a check for $10,000 and awarded an additional $10,200 in scholarships to six Wyoming Area High School graduates.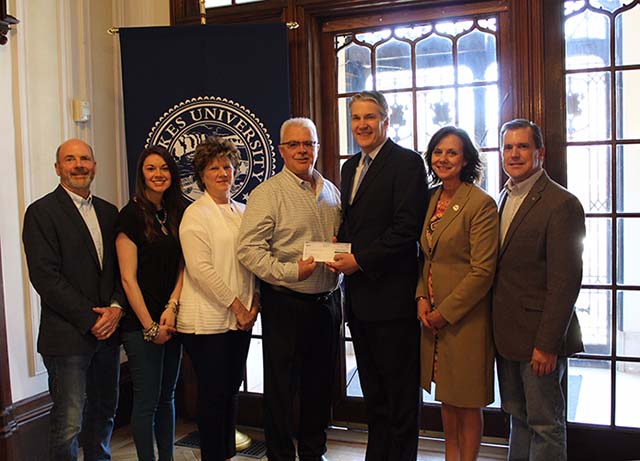 The gifts are proceeds from the 2017 John Anthony "Beno" Borzell Golf Tournament. The event, now in its seventh year, has raised $105,900 to date for scholarships and facilities that benefit students at Wilkes University and Wyoming Area High School. The annual event is held in memory of John Anthony "Beno" Borzell, who graduated in 2007 from Wyoming Area and in 2011 with a degree in environmental science from Wilkes. The 2018 golf tournament will be held on Sept. 15.
The $10,000 contribution to Wilkes supports an endowed scholarship in John Anthony "Beno" Borzell's memory. It will be presented to students studying earth and environmental science at the University. The Borzell's initial contribution to Wilkes supported an environmental engineering lab in the Cohen Science Center named in memory of John Anthony "Beno" Borzell. In the 2018-2019 academic year, a room on the second floor of Stark Learning Center used by students from the College of Science and Engineering will be dedicated in Beno's honor.
Additional scholarships of $1,700 each also were presented to six Wyoming Area High School graduates who are athletes planning to pursue studies in the sciences in college. The scholarship amount – $1,700 – commemorates the number 17 worn by Beno as a football and baseball player. This year's recipients are Mathew Wright, Marc Anthony Minichello, Paul Angeli, Gwendolyn Glatz, Julia Kopetchny and Lindsay Higdon. The six students graduated in June from Wyoming Area.
Contributions to Wilkes since the tournament's inception total $60,000. Twenty-seven scholarships of $1,700 each – totaling $45,900 – have been presented to Wyoming Area High School seniors since 2012.
For more information about the 2018 tournament, please email jbor13@comcast.net.
About Wilkes University:
Wilkes University is an independent institution of higher education dedicated to academic and intellectual excellence through mentoring in the liberal arts, sciences, and professional programs. Founded in 1933, the university is on a mission to create one of the great small universities, offering all of the programs, activities, and opportunities of a large, research university in the intimate, caring, and mentoring environment of a small, liberal arts college, at a cost that is increasingly competitive with public universities. The Economist has named the University 25th in the nation for the value of its education to graduates. In addition to 47 undergraduate majors, Wilkes offers the doctor of nursing practice, doctor of education and doctor of pharmacy degrees and more than a dozen master's degree programs, including the master of business administration and master of fine arts in creative writing.