Hatwig is the second consecutive Wilkes honoree
of the Tillman Foundation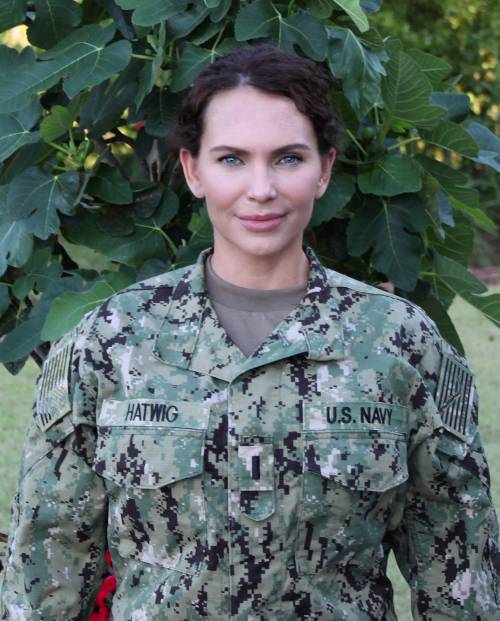 For the second year in a row, the Pat Tillman Foundation has recognized a Wilkes University student among their annual Tillman Scholars. Dana Hatwig, a lieutenant in the United States Navy Nurse Corps, is among 60 scholars in the foundation's 2018 class. Hatwig, of Jacksonville, Fla., is pursuing her master of science in nursing as a psychiatric mental health nurse practitioner. She was selected from 3,000 applicants nationwide.
Jason Homza, who earned bachelor's and master's degrees from Wilkes, was recognized in 2017 as a student at the Geisinger Commonwealth School of Medicine.
Marie Tillman, board chair and co-founder of the Pat Tillman Foundation, made the announcement on June 6. In recognition of their service, leadership and potential, the newly selected class will receive more than $1.3 million in scholarship funding to pursue higher education and continue their service in the fields of medicine, law, business, policy, technology, education and the arts.
For Hatwig, her journey to military service spurred a career change. After her father's untimely death, she began volunteering as a long-term care companion at the Captain James A. Lovell Federal Health Care Center in Illinois. The mother of five and business executive was given the opportunity to develop and launch "No Veteran Dies Alone," a federally sanctioned veterans affairs initiative designed to provide emotional and spiritual support to actively dying veterans. Inspired by her experience, and her husband who retired from the Navy, she went on to earn her nursing degree and was commissioned as a Navy Nurse Corps officer.
Hatwig coached patients and families through their most challenging days as an emergency nurse. Deployed to Afghanistan, her trauma-nursing role was twofold; first to save lives, later to save minds. While stabilizing an injured unit following a VBIED attack, Hatwig experienced patients' overwhelming anguish and knew she could make the most significant impact as a psychiatric mental health nurse practitioner.
"To have two Tillman Scholars from a small university like Wilkes in back-to-back years is humbling, and speaks volumes to the quality of our students. Wilkes University fills an important place in the nation as an institution that prides itself in making a major difference in the lives of our veterans and to those who are still serving our nation like Dana," said Lt. Col. Mark A. Kaster, Wilkes veterans counselor. "Dana Hatwig's story is powerful, combining her U.S. Navy nursing accomplishments with the legacy of Pat Tillman. A hero's memory supporting a hero's dream."
Identifying the acute need for mental health providers, Hatwig will continue her military service after credentialing as a nurse practitioner. Stateside, her focus is on working collaboratively with primary care and specialty clinics to develop holistic approaches aimed at risk identification and mitigation of mental health disorders and substance abuse. She has identified a critical need for a more robust mental health program in deployed settings and plans to propose a program for more comprehensive services in theater. Hatwig's goal is to assist service members and their families live healthier and balanced lives.
In 2002, Pat Tillman put his NFL career with the Arizona Cardinals on hold to serve his country. Family and friends established the Pat Tillman Foundation following Pat's death in April 2004 while serving with the 75th Ranger Regiment in Afghanistan. The Pat Tillman Foundation unites and empowers remarkable military veterans and spouses as the next generation of public and private sector leaders committed to service beyond self. The fellowship program supports Tillman Scholars with academic scholarships, a national network, and professional development opportunities, so they are empowered to make an impact in the world.
Read more about Hatwig at www.pattillmanfoundation.org/scholar/dana-hatwig
About The Tillman Scholars Program:
Founded in 2008, the Tillman Scholars program supports our nation's active duty service members, veterans and military spouses by investing in education and professional development. PTF provides academic scholarships, a national network and professional development opportunities, so Tillman Scholars are empowered to make an impact at home and around the world.