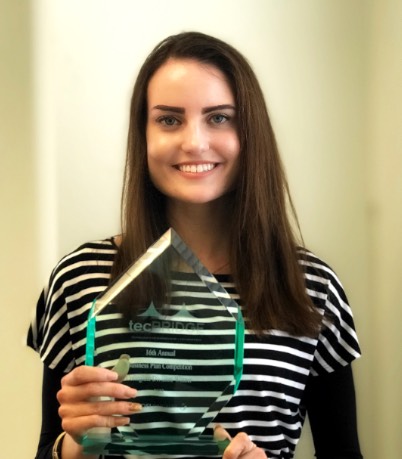 Wilkes senior Michelle Lehman is graduating with more than a diploma. The marketing major in the Jay S. Sidhu School of Business and Leadership has earned $10,000 and $100,000 in in-kind services as the winner of the collegiate division in the annual TecBRIDGE annual business plan competition. Lehman was announced the winner on April 25 at an event at the F.M. Kirby Center in Wilkes-Barre. She beat out students from Marywood, East Stroudsburg, the University of Scranton, Lackawanna College and Penn State Worthington-Scranton to win the collegiate prize.
Lehman, who is a Crestwood High School graduate, is the first Wilkes student to take first place in the business plan competition. The tecBRIDGE Business Plan Competition is a regional event that celebrates entrepreneurship, innovation and potential in northeast Pennsylvania. The competition includes collegiate and non-collegiate divisions that allow aspiring entrepreneurs to showcase their business ideas, start-ups, and early stage ventures to compete for cash and in-kind services.
Lehman was awarded the prize based on her business plan for her company, Rae Sleeves. With the money, Lehman will begin manufacturing her women's clothing line. Lehman has designed a form-fitting shirt that allows the wearer to transform the look of any outfit by adding one of her garments – which she calls sleeves – to create a long-sleeved look for any dress or top.
She boasts an impressive resume of campus activities in addition to her entrepreneurial endeavor. Lehman is a member of the Human Resources Club and is a representative on the dean's student advisory board in the Jay S. Sidhu School of Business and Leadership. For the last two years, she has been a Kirby Scholar in marketing for the Allan P. Kirby Center for Free Enterprise and Entrepreneurship.
After graduating from the University on May 19, Lehman plans to begin manufacturing her clothing line. She also expects to begin studying for her Master of Business Administration degree at Wilkes in fall 2018.