The chairman of Benco Dental will be awarded the President's Medal at the University's annual event
Wilkes University will celebrate its legacy of educating first-generation college students at the 2018 Founders Gala on Saturday, June 2. The gala, now in its fifth year, will be held at 6 p.m. at the Westmoreland Club, 59 S. Franklin St. in Wilkes-Barre.
The highlight of the event will be the presentation of the President's Medal to Lawrence E. Cohen '57, chairman and chief customer advocate at Benco Dental. The President's Medal is bestowed annually on an individual whose personal and professional life reflect the highest aspirations of Wilkes University.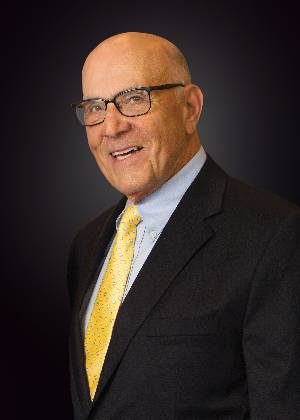 Proceeds from the event support the First Generation Scholarship Fund, which provides scholarship funds to students who are the first in their family to pursue a four-year degree. Established in 2014, the Founders Gala has raised more than $1.5 million.
"Wilkes University has been open to all who show potential since our founding. That legacy continues today as over half of our current students are the first in their families to pursue a four-year degree," said Wilkes President Patrick F. Leahy. "The First Generation Scholarship Fund illustrates how Wilkes is a private university with a public purpose, producing graduates who make positive contributions in their fields and in the world."
Cohen's support is best reflected in the University's Lawrence and Sally Cohen Science Center, a $35 million, 72,500 square-foot interdisciplinary science facility built in 2013. The science center was named in recognition of the couple's $2.5 million gift in support of the project – one of the largest gifts in Wilkes history. It brings four floors of state-of-the-art laboratories together to encourage collaborative research and study.
In addition, Cohen served on the University's board of trustees for 14 years. He was granted trustee emeritus status in 2008.
In announcing Cohen as the 2018 President's Medal honoree, Leahy praised his personal commitment to the University. "The Cohens' support of Wilkes University has been paramount to the success of our students. Because of Larry and Sally's generosity, our students learn in a first-class, integrative facility bearing the Cohen name. Collaboration across disciplines is the future of science. The Cohen Science Center puts Wilkes at the forefront of research and study."
Cohen enjoyed a successful career at Benco Dental, a company started by his father in the 1930s. Cohen joined Benco in 1959, when the organization served a handful of dentists in Wilkes-Barre and Scranton. Over the next three decades, Benco grew into one of the largest dental distributors in the United States, with sales of more than $100 million. Since the '90s, Cohen has worked closely with his sons to build Benco into the nation's largest family-owned dental distributor, serving dentists from coast to coast. He currently serves as Benco's chairman and chief customer advocate.
Cohen graduated from Wilkes University with a bachelor's degree in accounting. He went on to earn a master's degree in management and finance from Columbia University. He and his wife, Sally, are longtime residents of northeast Pennsylvania. They are parents to Chuck and wife Rebecca, and Rick, and grandparents to Benjamin and Leah.
For more information about sponsorships and attending the Founders Gala, please visit www.wilkes.edu/foundersgala or call (570) 408-4302.