Basketball Hall of Fame center, New York Times-bestselling author, and Presidential Medal of Freedom recipient Kareem Abdul-Jabbar will deliver the Max Rosenn Lecture in Law and Humanities on Sunday, April 29. The event will be at 2 p.m. in the McHale Athletic Center in the University Center on Main at 169 S. Main St.
The moderated lecture, "Becoming Kareem" will explore issues such as political activism in sports, race relations, and facing life's struggles with positivity. He will also address the importance of STEM education in underserved communities, the driving force behind his Skyhook Foundation. The lecture will conclude with a book signing.
Admission is free but advance registration is recommended. To register online, visit www.wilkes.edu/kareem.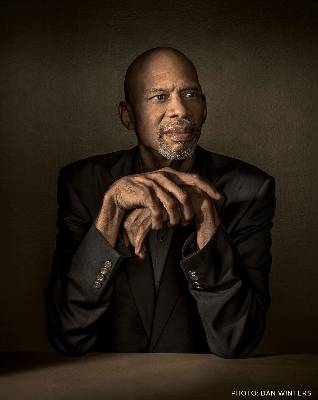 Kareem Abdul-Jabbar is the NBA's all-time leading scorer and six-time NBA champion. He is also one of a handful of influential and respected black men in America who has a national platform as a regular contributing columnist for The Hollywood Reporter and The Guardian, where he shares his thoughts on some of the most socially relevant and politically controversial topics facing our nation today. After 50 years as an athlete, activist, and New York Times best-selling author, he offers his perspectives as a nationally recognized speaker who regularly appears on the lecture circuit. His political book, Writings on the Wall – Searching for a New Equality Beyond Black and White, was released in fall 2016 by Time Books and offers his personal perspectives on political issues facing America today.
In 2015, his HBO Sports documentary, Kareem: Minority of One, debuted as HBO's most watched and highest rated sports documentary of all time.
Currently Abdul-Jabbar serves as the chairman of his Skyhook Foundation whose mission is to "Give Kids a Shot That Can't be Blocked" by bringing educational STEM opportunities to underserved communities through innovative outdoor environmental learning. In 2012, he was appointed to be the only U.S. Cultural Ambassador by then-Secretary of State Hillary Rodham Clinton. His most recent projects include his debut novel Mycroft Holmes — a mystery novel and the first of an action/mystery series based on Sherlock Holmes's savvy older brother — released by Titan Publishing. In addition, his first comic book series, Mycroft Holmes & The Apocalypse Handbook was released during Comic-Con in San Diego in July 2016 and continues to be a bestseller. His memoirs include Becoming Kareem: Growing Up On and Off the Court, released in 2017, and Coach Wooden & Me – Our 50-Year Friendship. In 2016, President Barack Obama awarded Abdul-Jabbar the nation's highest civilian honor, the Presidential Medal of Freedom.
The Max Rosenn Lecture in Law and Humanities was established at Wilkes University in 1980 in recognition of Judge Rosenn's exceptional contributions to public service. It was established by his former law clerks, his law firm, Rosenn, Jenkins & Greenwald, family and friends. Past speakers include Anna Deavere Smith, Anthony Lewis, Cory Booker and Bob Woodward.

For more information, contact Rebecca Van Jura, director of special events, at (570) 408-4306 or rebecca.vanjura@wilkes.edu.