Wilkes University awarded Sandy Pesavento the Diane Place Doctoral Dissertation Award and named James Casey the Educator of the Year at the fourth annual Celebration of Education event on Nov. 7 for their outstanding contributions on campus and in the community.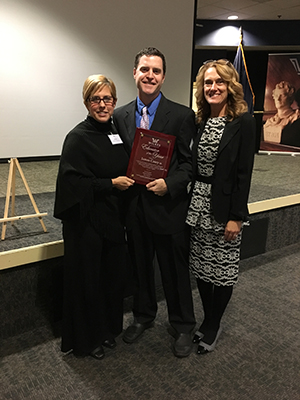 The Wilkes University Educator of the Year Award recognizes a teacher who is a lifelong learner, reflective practitioner and an effective communicator who continues to grow academically and professionally while presenting the ethic of service and dedication to all students within the learning community.
Casey graduated from Wilkes in 2003 with a bachelor's degree in psychology and a certificate to teach elementary and special education. He has been a seventh grade learning support teacher at Wyoming Valley West Middle School for 13 years, where he also teaches sixth through eighth grade learning support students. 
Pictured above from left to right, Suzanne Murray Galella, interim chair and associate professor of education, James Casey, 2017 Educator of the Year, and Rhonda Rabbitt, dean of the Wilkes School of Education.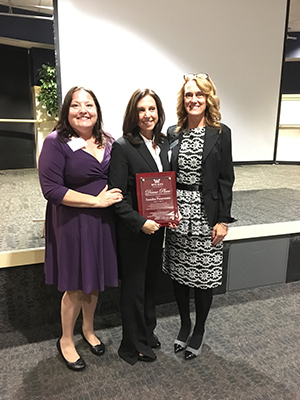 The Diane Place Doctoral Dissertation Award honors a Wilkes graduate student who exhibits perseverance in completing doctoral studies, commitment to lifelong learning, resilience in the face of adversity, strength of character to advance in life through education, collegiality with peers, leadership in education, and excellence in academics.
Pesavento received a master of science in education in 2004 from Wilkes and graduated from Wilkes' doctor of education program in 2017. She is currently a professor in the education department at the University of Scranton. 
Pictured above from left to right, Blake Mackesy, assistant professor in the doctor of education program, Sandy Pesavento, Diane Place Doctoral Dissertation winner, and Rhonda Rabbitt, dean of the Wilkes School of Education.