"Think global, act local, and start personal," was the big take away for five Wilkes University students who attended the 2017 University Scholars Leadership Symposium . The students traveled to Bangkok, Thailand from Aug. 1-7 for the week-long training session that brings together 1,000 of the world's most promising leaders from 90 universities and colleges around the world. In order to be selected to attend, students undergo a systematic screening process to assess their strong leadership potential, genuine appreciation for different perspectives, and reflect diverse interests, backgrounds and ambitions. Mark Allen, dean of students and interim director of the honors program attended with the students.
The students included:
Raeva Mulloth of Waverly Township, Pa.
Christine Walsh of Glen Gardner, N.J.
Angus Fortune of Schuylkill Haven, Pa.
Nicole Hart of Candor, N.Y.
Maria Lerch of Nazareth, Pa.
The Wilkes students attended the symposium as part of an honors course, International Leadership. The students will be graded on their attendance at the symposium along with three presentations they will give to the First Year Foundations honors sections on their experience at the event. For this, the students interviewed attendees from other countries to learn more about their views on leadership and how life differs across borders.
"The most rewarding part of the symposium was being able to meet students from all over the world. By talking to them I got to learn about different government structures, educational systems, and societal problems," said Mulloth. "Being in the U.S., problems such as famine and widespread disease are not seen as everyday problems. However, for some of the people that I met, these are struggles they face everyday in their communities. The symposium not only opened my eyes to the vast and differing amount of problems around the world, it also inspired me to look at the problems I see in my own community."
Held at the United Nations building in Bangkok, attendees heard various presentations from outreach programs and motivational speakers as well as participated in group discussions surrounding the topic of "Causes that Matter," after which they completed a workshop session to put their plans into motion. Students also spent one day completing community service in the area working with local schools and planting in mangroves.
In Aug. 2016, four students from the honors program attended the University Scholars Leadership Symposium held in Hanoi, Vietnam where they learned about making positive transformations in small communities along with global initiatives.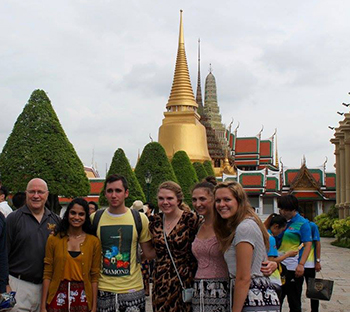 About the Wilkes University Honors Program:
The Wilkes University Honors Program offers bright, ambitious students an enhanced and interdisciplinary academic experience. Selected students from across Wilkes majors take part in honors classes and extracurricular activities designed to increase intellectual, professional and personal achievement. Honors students reside in a living-learning community. Benefits include an annual academic enrichment grant, unique in higher education, which students can use to help fund study-related expenses such as travel or technology.
About Wilkes University:
Wilkes University is an independent institution of higher education dedicated to academic and intellectual excellence through mentoring in the liberal arts, sciences and professional programs. Founded in 1933, the university is on a mission to create one of the great small universities, offering all of the programs, activities and opportunities of a large, research university in the intimate, caring and mentoring environment of a small, liberal arts college, at a cost that is increasingly competitive with public universities. The Economist named Wilkes 25th in the nation for the value of its education for graduates. In addition to 42 bachelor's degree programs, Wilkes offers 25 master's degree programs and five doctoral/terminal degree programs, including the doctor of philosophy in nursing, doctor of nursing practice, doctor of education, doctor of pharmacy, and master of fine arts in creative writing. Learn more at www.wilkes.edu.