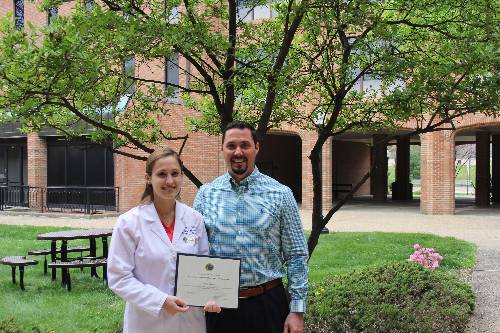 Wilkes University third-year pharmacy student Sarah Fillman, of Limerick, Pa., was the recipient of a United States Public Health Service Excellence in Public Health Pharmacy Award.
Fillman was recognized for her work during a summer internship at Geisinger Health System, where she piloted a program to establish public awareness efforts to promote proper drug disposal.
After her paid internship ended, Sarah continued to launch sustainability efforts pro bono, and assisted Geisinger's research department with writing a $20,000 grant to assist in the implementation of the medication take-back program in community pharmacies. Her supervisor, Eric Wright, co-director for the Center for Pharmacy Innovation and Outcomes at Geisinger Health System says, "I can say with certainty that the Geisinger Medication Take-Back program would not be where it is at today without her efforts."
Through her involvement in extracurricular activities at Wilkes, Fillman achieved several goals outlined in Healthy People 2020. Healhy People 2020 is the U.S. Department of Health and Human Services program of 10-year goals and objectives for health promotion and disease prevention. Fillman served as vice president of the Health and Wellness Club, providing nutrition and wellness education to Wilkes students. She also completed weekly outreach to elementary students at Kids Café, an after-school gym and fitness program. These initiatives helped to improve fitness through physical activity and improve the well-being of women and children. Fillman also served as a by-stander intervention trainer at the University and a Victims Resource Center (VRC) advocate, mentoring other students, particularly freshmen, about issues related to sexual violence.