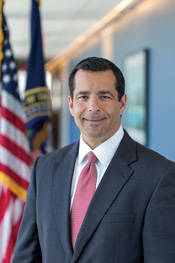 Wilkes University alumnus and National Counterintelligence Executive William "Bill" Evanina will discuss issues of cyber security and theft of personally identifiable information on Thursday, Nov. 12 at 7 p.m. in the ballroom of the University's Henry Student Center. Evanina's lecture, "Economic Espionage: Don't Be A Victim," will provide business owners and individuals with information on the threat to our national security and how to better protect themselves from this threat. Admission is free and the event is open to the public.

A native of Peckville, Pa., Evanina serves as the director of the National Counterintelligence and Security Center for the U.S. government, making him one of the most powerful figures in the intelligence community. He is responsible for producing the National Threat Identification and Prioritization Assessment, producing and implementing the national counterintelligence strategy and conducting counterintelligence and security damage assessments.
Evanina has served in various government positions during a 26-year career. Prior to assuming his current position in June 2014, Evanina was chief of the CIA's Counterespionage Group, where he led personnel from multiple intelligence community agencies in efforts to identify and stop espionage-related activities from foreign intelligence services.
He joined the Federal Bureau of Investigation in 1996, beginning an 18-year career with the bureau. During that time he held several positions, including assistant special agent in charge of the FBI's Washington Field Office, where he led operations in both the counterintelligence and counterterrorism divisions; special assistant in the FBI's National Security Branch; and assistant section chief of the FBI's Counterintelligence Division. After 9/11, he was assigned to the FBI's Newark Joint Terrorism Task Force where, as senior supervisory special agent, he was honored with the FBI Director's Award for Excellence for leading the espionage investigation of convicted spy Leandro Aragoncillo.
Evanina is a 1989 Wilkes graduate, earning his bachelor's degree magna cum laude in public administration. He also holds a master's degree in educational leadership from Arcadia University in Philadelphia.