A Brief History of Seven Killings Wins One of Literature's Most Prestigious Honors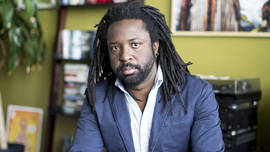 Wilkes University alumnus Marlon James has won the 2015 Man Booker Prize for his novel A Brief History of Seven Killings. The international prize, one of the literary world's most prestigious, was presented on Oct. 13 in London.
James, a native of Jamaica, is a 2006 graduate of Wilkes' graduate creative writing program, where his thesis project eventually became his second published novel, The Book of Night Women.
First awarded in 1969, the Man Booker Prize is considered the leading prize for high-quality fiction written in English. With the win, James joins a distinguished list of previous winners that include Salman Rushdie, Margaret Atwood and Iris Murdoch. The winner receives 50,000 pounds (British currency), the equivalent of about $100,000 in U.S. dollars.
James' nearly 700-page prize-winning novel opens with the 1976 assassination attempt on reggae singer Bob Marley and chronicles the lives of gunmen, drug dealers, CIA agents and ghosts, taking readers from West Kingston, Jamaica, to New York City and back to Jamaica over a 30-year span.
James, now an English professor at Macalester College in Minneapolis, Minnesota, came to study at Wilkes at the invitation of creative writing faculty member Kaylie Jones. Jones, who met him while teaching at the Calabash Festival in Kingston, Jamaica, said James was ready to give up writing after receiving 70 rejections for his first novel, John Crow's Devil. The book eventually was published by Akashic Books, a well-regarded independent publisher affiliated with the Wilkes creative writing program.
"I recognized right away that he was a huge talent," Jones recalls. "I asked him to send me his whole novel. I saw in the first paragraph that he was a genius. Everybody recognized it right away at Wilkes."
Bonnie Culver, director of Wilkes' graduate creative writing program says winning the Man Booker Prize affirms the work ethic James exhibited while studying at Wilkes. "He's gifted, but that's not what got him there," Culver says. "He's incredibly disciplined."
The Booker is the latest in a long list of accolades for James' book. Nominated for the PEN Open Book Award by the PEN American Center, A Brief History of Seven Killings placed on the BBC's "The Top 10 Books of 2014" and the New York Times Book Review's "Top 10 Books of 2014." It also was named a best book of the year by The Washington Post, Time, Newsweek, Publishers Weekly and BuzzFeed Books, among others. The novel received a 2015 Anisfield-Wolf Book Award, won a Minnesota Book Award, and was a finalist for the National Book Critics Circle Award for fiction.
In commenting on James' selection on the Man Booker web site, Michael Wood, chair of the judges' committee, said, "This book is startling in its range of voices and registers, running from the patois of the street posse to The Book of Revelation. It is a representation of political times and places, from the CIA intervention in Jamaica to the early years of crack gangs in New York and Miami.
"It is a crime novel that moves beyond the world of crime and takes us deep into a recent history we know far too little about. It moves at a terrific pace and will come to be seen as a classic of our times."
With the awarding of the Man Booker Prize, it is expected that sales of the book, will skyrocket. Last year's winner, Richard Flanagan's The Narrow Road to the Deep North, sold more than 800,000 additional copies after receiving the award.