"The Gateway underscores our efforts to support the revitalization of downtown Wilkes-Barre. At the same time, it physically unites our campus, enhancing its beauty as a green oasis in an urban setting.," said University President Patrick F. Leahy. "Supporting the city and improving our campus infrastructure are two of our strategic initiatives."
In dedicating the Gateway, the University recognized Clayton Karambelas, a 1949 Wilkes graduate, and his wife, Theresa, for their gift to the University which helped to pay for the project. A PennDOT multi-modal grant of $600,000 also provided funding for the Gateway.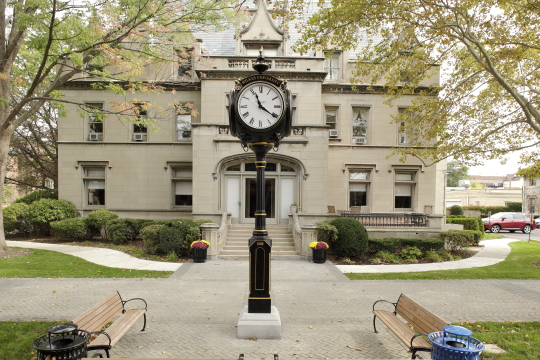 In discussing his reasons for supporting the project, Clayton Karambelas said, "Wilkes has been a very important part of my life since I first stepped foot on campus as a student. Theresa and I are proud to give back to this institution and the students who live and learn here. This beautiful gateway is a visible symbol of the vitality of our community, both here at Wilkes and in downtown Wilkes-Barre."
Other speakers at the ceremony included state Sen. John Yudichak, state Rep., Eddie Day Pashinski, who is a 1967 Wilkes graduate, and Wilkes-Barre Mayor Thomas Leighton. Other speakers were Kathy Dunsmuir, who delivered remarks on behalf of the Karambelases, and Wilkes Student Government President Anthony Fanucci.
Ground was broken for the Gateway in April 2015 with the bulk of the work completed by the start of classes in late August. The project includes a 14-foot-wide, well-lit pedestrian walkway between the University Center on Main and 141 S. Main St. The walkway extends across South Franklin St. into the center of the University's Fenner Quadrangle. It includes 11 new LED streetlights, bicycle racks, benches and a decorative clock. The Gateway is landscaped with 20 new trees and more than 1,000 plants and shrubs. Architects for the project were Derck and Edson of Lititz, Pa. Construction was coordinated by Sordoni Construction Management.
Pedestrian safety features include two pedestrian crosswalks – one on South Main Street and a raised crosswalk on South Franklin Street between Northampton and South streets – will include flashing yellow traffic signals.
Streetscape improvements to the building at 141 S. Main St., while not part of the Gateway project, were completed at the same time. They include installation of new sidewalks and a complete renovation and updating of that building's façade.
Gateway Fast Facts
Project Details
The Gateway has been a $1 million project.
The metal archway at the entrance is made of structural steel tube.
47,700 paver bricks were used.
The Gateway features over 2,000 plants and trees, including five red maples, 1,000 pachysandra, 55 wood ferns and 27 oakleaf hydrangeas.
The clock stands 18 feet high.
It includes 11 lamp posts.
Pedestrian crosswalks were created on South Main and South Franklin streets.
The bases on the piers and curbs are Mt. Airy White granite from North Carolina. The limestone cladding and caps on the piers is buff-colored limestone from Indiana, chosen to complement historic Weckesser Hall.
Architects for the project were Derck and Edson of Lititz, Pa. Construction was coordinated by Sordoni Construction Management.
Safety Enhancements
A raised pedestrian walkway with a yellow traffic signal was created across South Main Street at the University Public Safety Offices and parkade.
A second raised pedestrian walkway with yellow traffic light was created mid-block on South Franklin Street between South and Northampton streets.
Lights were installed on the gateway.
Funding
$600,000 is coming from a PennDOT multi-modal grant, matched by $400,000 in funding from Wilkes.
Completion Date
September 2015; Dedication October 2, 2015
Contractors
Architects: Derck and Edson of Lititz, Pa.
Construction firm: Sordoni Construction Management