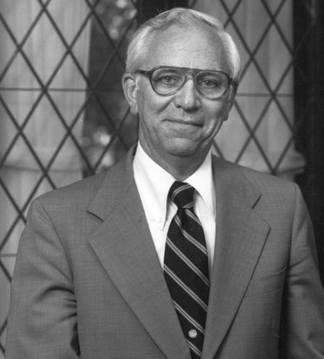 Dr. Robert S. Capin '50
1926–2015
Third President of Wilkes College
1975–1984
"In pursuing the goals we have established for ourselves, each of us has the obligation to apply our talents to the best of our ability. There is no substitute for excellence."
— Dr. Robert S. Capin '50
Wilkes University mourns the passing of our third president, Dr. Robert S. Capin. A funeral service will take place at noon Tuesday, June 23, at the Dorothy Dickson Darte Center for the Performing Arts.
Dr. Capin was born in Harrisburg, Pa., on Feb. 6, 1926. After serving in the U.S. Navy in World War II, he came to Bucknell University Junior College in 1947, the same year the institution became Wilkes College. Dr. Capin earned a bachelor's degree in economics from Wilkes College in 1950 and began a career in public accounting.
His accounting career included positions with the firm Laventhol & Horwath and as comptroller for Sitkin's Metal Trading. He ran his own business as a certified public accountant from 1959 to 1974. He earned a master of business administration degree in labor management from Lehigh University in 1969.
Dr. Capin returned to Wilkes as a part-time faculty member in 1955 and became a full-time faculty member in 1959. He was granted full professorship in the commerce and finance department in 1972. As a business and accounting faculty member for nearly two decades, he mentored several generations of Wilkes students.
His administrative contributions to Wilkes began in in 1965 as director of the evening and summer college. Later, as dean of academic affairs from 1974 to 1975, he worked with then-President Francis Michelini to guide the campus during one of the most critical periods in its history, the recovery efforts following the Hurricane Agnes flood in 1972, when the campus sustained some $14 million in damage.
While still serving as dean, Dr. Capin was named acting president in 1974 and received permanent appointment as president in 1975. He is the only Wilkes alumnus to serve in that capacity. Dr. Capin's management enabled Wilkes to operate in the black for nine consecutive years. He led two successful multimillion dollar capital campaigns and oversaw construction of a new residence hall, Founder's Hall, which later became Evans Hall, and refurbishing of historic campus facilities.
Academic milestones during his presidency include development of the master of business administration program, the start of the accounting specialization, and growth of the Wilkes University-Hahnemann medical program and nursing program. During his tenure, Wilkes received re-accreditation by the Middle States Association of College and Universities.
Dr. Capin received an honorary doctor of human letters degree from the University in 1983 and was named Wilkes' first president emeritus. In 1994, the building at 165 S. Franklin St. was named in his honor. The Robert S. Capin Endowed Teaching Chair in Accounting and the Robert S. Capin Endowed Scholarship in Accounting continue his legacy in the Jay S. Sidhu School of Business and Leadership.